SDBJ INSIDER: A Storybook Job
Monday, October 28, 2019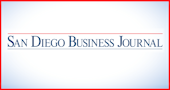 Talking about a diverse economy in San Diego: Who else has a Dr. Seuss Enterprises?
The children's entertainment company announced Julie Dill as vice president, global licensing, marketing and communications for Dr. Seuss Enterprises.
According to the company, "Dill will oversee the consumer products division and lead Dr. Seuss' international partners, reaching audiences in over 110 countries and 45 languages, all of whom continue to benefit from the slate of recent successful film and TV releases, digital media, and collaborations."
...
Nature is a tough task master. One minute you're eating grass and the next minute you're being eaten alive in the grass by six lions. So it makes sense that research at UC San Diego Jacobs School of Engineering might look for body armor solutions in the great outdoors.
Researchers dove in — led by Marc Meyers, a professor of nanoengineering and mechanical engineering at the University of California San Diego, and Robert Ritchie, a professor of mechanical engineering and materials science at the University of California Berkeley — and found some well protected fish.
According to a news release from Jacobs School, "The scales of the massive Amazonian freshwater fish, Arapaima gigas, are so tough that they do not tear or crack when a piranha — which has one of the animal kingdom's sharpest bites — attacks."
The discovery is likely to lead to improved body armor (for humans) including bulletproof vests.
...
Cross Border Xpress (CBX), the pedestrian bridge between the U.S. and Mexico connecting directly to the Tijuana International Airport, has announced increased traffic year-over-year for three consecutive quarters, CBX said in a news release.
Overall passenger traffic counts from July to September 2019 were up 30 percent compared with the previous year. CBX said it will be expanding some areas in the terminals, and increasing the services and available technology to meet the increased need.
"Since its conception, CBX has sought to improve the travel experience for the millions of people who travel between the U.S. and Mexico each year," said Jorge Goytortúa, CEO of CBX. "These increases in passenger growth are not only a testament to the great strides we have made over the past four years, but are further proof of the opportunities for positive tourism on both sides of the border…"