SBP RECEIVES $3.58M GRANT FOR OPIOID TREATMENT
SBP Receives $3.58M Grant for Opioid Treatment
Monday, October 28, 2019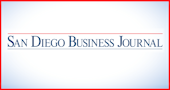 A professor at Sanford Burnham Prebys Medical Discovery Institute received a $3.58 million grant to push forward a compound that has shown early promise in helping prevent opioid relapse or overdose.
Funding will go toward finishing up preclinical testing of SBI-553, a compound that in mouse models staved off opioid relapse. Researchers say it could be prescribed to people at precarious stages of addiction, if all goes according to plan.
A Dangerous Time
"One of the most dangerous times for a person struggling with opioid addiction is immediately after release from a treatment program, hospital or incarceration," said Anthony Pinkerton, recipient of the grant, which came from a division of the National Institutes of Health.
If SBI-553 gets cleared for testing in humans, the program would receive an additional $6.3 million in NIH funding for a phase 1 clinical trial.
Sanford Burnham Prebys says SBI-553 binds outside of a receptor that regulates dopamine response, and so far the compound appears safe. In clinical testing other treatments for opioid addiction have caused issues like hypothermia, while approved drugs like methadone have limited effectiveness.
SBI-553 was invented at Sanford Burnham Prebys.
But the research institute could turn to a backup compound if SBI-553 doesn't pass muster.
Team Effort
Pinkerton — and broadly Conrad Prebys Center for Chemical Genomics at Sanford Burnham Prebys — will team up with Duke University researchers Marc Caron and Lawrence Barak on preclinical testing.
The funding is part of the NIH's Helping to End Addiction Long-term Initiative, which this past fiscal year awarded $945 million to scientific efforts to combat the national opioid crisis..