MEDICINE: COMPANY'S MISSION IS TO FIND ANTIDOTE TO NERVE AGENTS
Regenica Biosciences Aims to Disarm a Chemical Weapon
Monday, October 28, 2019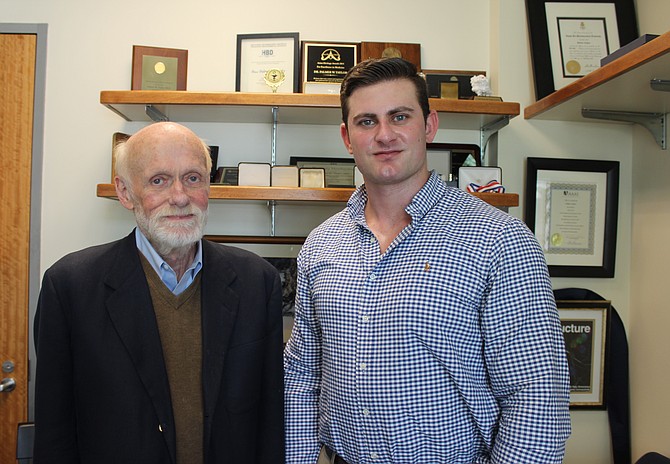 Growing up in San Diego, Jack Fernandes watched Illumina and other biotech giants flourish. Now, the John G. Watson Quick Pitch finalist hopes to build his own pharmaceutical company, starting with an ambitious task: developing an antidote to nerve agents.
Fernandes, a recent graduate of the University of California Los Angeles' School of Law, founded Regenica Biosciences in 2018.
He had wanted to work in the pharmaceuticals industry since his childhood, after seeing his mom's struggle with multiple sclerosis.
"I watched as a child — there were no treatment options for her," he said. "A lot of these patient populations were not getting treatments for reasons unrelated to scientific merit. The technologies existed. The treatments existed."
Inspiration
During in his first two years of law school, Fernandes worked for two pharmaceutical companies. In early 2018, he worked for Santa Monica-based Kite Pharma, which is developing cancer immunotherapy treatments. There, he found a role model in founder Arie Belldegrun, and was inspired by how the company's cancer therapies changed lives.
"Seeing the impact, firsthand, that therapies brought the world helped me to get over my apprehension (of my young age, when biotech tends to be an older profession) and made me believe that with the right mission, I could inspire others to join me and support our program immediately," Fernandes said. "It is what I love to do and I hope I can spend my life bringing as many new quality and affordable medicines to the world as possible."
Fernandes started with the mission of developing a treatment for exposure to certain types of nerve agents, such as sarin. The company licensed out its technology from research being conducted at UC San Diego and the Scripps Institute.
Barry Sharpless, a professor of chemistry at the Scripps Research Institute, and Palmer Taylor, a professor of pharmacology and emeritus dean at UC San Diego's Skaggs School of Pharmacy, are both listed as scientific founders for Regenica.
Regenica's lead compound, REG-001, is an antidote to organophosphate poisoning. These substances are most commonly found in insecticides, but were engineered during World War II into potent neurotoxins. Sarin, a volatile, odorless substance, was suspected in a chemical attack in Syria last year.
First Treatment
Regenica's compound is designed to be administered to patients after they had been exposed to a neurotoxin.
"This would be the first treatment that you receive immediately after being exposed to the chemical threat," he said.
A handful of treatment options are currently available, such as atropine, which can treat the symptoms of an attack. But few new treatment options have been approved.
Regenica's antidote is currently in pre-clinical testing, where it was able to treat organophosphate toxicity. The drug is also able to cross the blood-brain barrier, preventing seizures that can occur after exposure to nerve agents, according to Regenica.
"At least in the U.S., there are very sparse efforts to develop antidotes. We're underprepared unfortunately when it comes to biochemical defense," Fernandes said.
Funding
Earlier this year, Regenica raised seed funding.
The company has plans to meet with Salisbury Hospital in the U.K., where the victims of last year's Novichok (nerve agent) attack were treated. The company also has plans to meet with the Biomedical Advanced Research and Development Authority (BARDA), the U.S. governmental agency responsible for developing countermeasures against bioterrorism.
Regenica is currently partnering with four labs that are conducting research for its treatments; UC San Diego, the Scripps Research Institute, the Battelle Biomedical Research Center in Ohio and the Institute for Medical Research & Occupational Health in Croatia.
In the long term, Fernandes hopes to build development and manufacturing facilities for the company in San Diego.
"It feels like we're part of something really big because no one else is doing it," Fernandes said. "That helps with some of the early-stage bumps in the road. It's worth working for every day."