TOURISM: SESAME PLACE BETS ON BIG BIRD MAKING BIG SPLASH IN CHULA VISTA
Park to Give SeaWorld an Attraction Without Distractions
Monday, October 28, 2019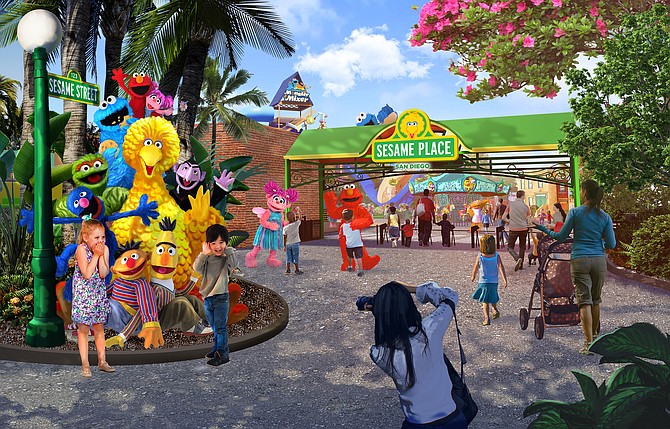 SeaWorld San Diego will soon have one up on SeaWorld Orlando with the addition of the second-ever Sesame Place theme park location in the United States, and the first on the West Coast.
SeaWorld Entertainment Inc. and Sesame Workshop, the nonprofit behind "Sesame Street," announced earlier this month the opening of the Sesame Place theme park in San Diego in the spring of 2021. At nearly 17-acres, Sesame Place San Diego will be located on the current Aquatica San Diego. May 2020 will be Aquatica's final season. Sesame Place will feature seven family rides, 11 water attractions and slides, live character shows and parades, among other attractions.
"We share Sesame Workshop's goal of educating and entertaining generations of children, and the opening of a second park, the only one of its kind on the West Coast, furthers our company mission to provide guests with extraordinary experiences," said Marc Swanson, interim chief executive officer for SeaWorld Entertainment, via a statement. "We are thrilled to be able to grow the presence of Sesame Place theme parks in the United States and San Diego is the perfect complement to our Philadelphia location."
Also, much like its sister park, opened outside Philadelphia in 1980, Sesame Place San Diego will open as a Certified Autism Center; designated quiet spaces with adjustable lighting and comfortable seating will be incorporated into the park's design, among other amenities for autistic visitors, reads the release.
SeaWorld has been Sesame Workshop's exclusive theme park partner in the United States for almost 40 years, with "Sesame Street Bay of Play" opening at SeaWorld San Diego in 2009. In May 2017, SeaWorld Entertainment and Sesame Workshop extended its partnership, which makes SeaWorld its exclusive theme park partner in the United States. The contract runs through December 2031.
SeaWorld Parks & Entertainment is a wholly owned subsidiary of SeaWorld Entertainment, Inc. Sesame Workshop is the nonprofit media and educational organization behind "Sesame Street," the television show that has been reaching children since 1969.
SeaWorld Entertainment has faced some backlash in recent years following the release of the 2013 documentary "Blackfish," which questioned SeaWorld's treatment of its killer whales. But, recently, the theme park chain appears to have shaken off its bad chakras. In 2018, SeaWorld Parks & Entertainment saw its first annual gain in attendance since 2015, with total visitation growing by approximately 1.8 million guests to reach 22.6 million, an increase of 8.6%. Company revenue also rose by 8.6%, reaching $1.37 billion in 2018.
The increase in visitors and revenue hasn't been a coincidence — SeaWorld has been intentional in attempting to save face post "Blackfish." Earlier this year, the park debuted its new coaster, the Tidal Twister, as well as a new four-weekend concert series called "Viva La Musica", the latter in collaboration with Coca-Cola.
Built by Skyline Attractions LLC, headquartered in Orlando, Florida, the Tidal Twister is a horizontal, figure-eight, dueling coaster that accelerates to 30 mph, elevates 16 feet off the ground and holds a total of 16 passengers by way of two trains. Viva La Musica is a Latin music series that features live performances from regional Mexican musical artists, as well as food and beverage offerings, a live DJ and community dancers.
David Koontz, director of communications at SeaWorld San Diego, told the San Diego Business Journal in May the park is always actively working on creating new and exciting reasons for both past members and first-time guests to visit.
"At SeaWorld, we are constantly adding new attractions and refreshing existing attractions, exhibits and seasonal events," he said.
Paula Peter, marketing professor at San Diego State University, said to the Business Journal earlier this year that destinations like SeaWorld have to continue to reinvent in order to appeal to guests and their ever-changing needs.
"SeaWorld is a very good example of a park that had to start reinventing itself to bypass controversy," she said. "They now have rides that attract visitors more so than just their marine life. It is still a prominent part of their business, but if you go on their website, the first thing you see is a family on a ride.
"Amusement parks, no matter the type, are shifting in that direction to address the needs of the consumers that pay a lot of money to visit the attractions," she continued. "They have to evolve to make sure people visit them, to cater to the new generation and to stay relevant… It is becoming more prevalent — not just for those trying to overcome bad press — to focus more on the experiential side."