PROPERTY: BANKERS HILL DEVELOPMENT LOOKS FOR LASTING BEAUTY, NOT TRENDS
Palatine Doesn't Want Residents To Get Lost in the Crowd
Monday, October 28, 2019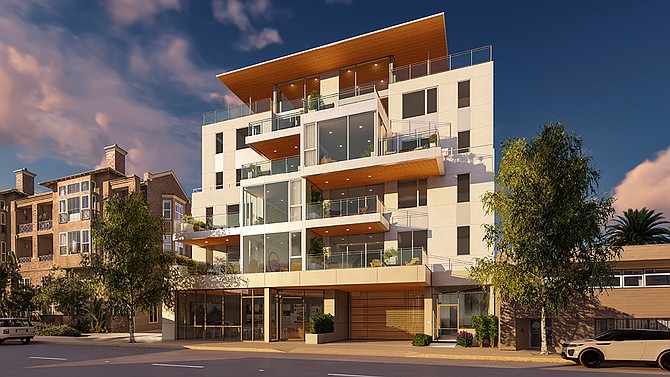 Affordable luxury with an artistic touch is the selling point for a $20 million condominium project going up in Bankers Hill.
The 16 condominiums in Palatine Bankers Hill at 2750 Fourth Ave. will sell for between $1.2 million for a ground-floor condo to about $3.5 million for a fifth-floor penthouse with what developer Seamus Garland said has "panoramic views of everything."
"I don't want to call it an art project," Garland said, but he said it's important to him that Palatine is something that instills pride.
"This project is going to be here for a long time," Garland said. "It would be truly disappointing if this was some ugly piece of crap that people would look at and say, 'Seamus Garland built that.' I just want my projects to be additive."
$15.1M Construction Loan
A $15.1 million one-year, floating-rate construction loan for the project was arranged by Chris Collins, a director of the commercial brokerage JLL, and Brad Vansant, an analyst with JLL.
Designed by Safdie Rabines Architects of San Diego, Palatine has floor-to-ceiling glass "to kind of bring the outside in," said Sales Manager James Hardy.
The project includes 1,121 square feet of ground-floor commercial space and 38 parking spaces.
The condominiums have stone tile and hardwood flooring, quartzite countertops, wood cabinetry, Miele appliances, ThermoPad thermostats, automated Lutron lighting, keyless entry and electric vehicle charging stations.
Except for the single condo on the ground floor, all the units have two or three bedrooms, Hardy said, and the east-facing condos have views of San Diego Bay while those on the west side overlook Balboa Park.
Each unit also has at least 200 square-feet of outdoor space, Hardy said.
"We wanted a building design that would be relevant in 10 years, 15 years, 20 years. We wanted something that's more of an architectural work of art than something that's a trend," Hardy said.
"The market we're really targeting are those who have lived in large buildings and no longer want to be one of the many as opposed to one of the few."
As Hardy sees it, Palatine's competition in Bankers Hill includes such condo towers as the The Park Bankers Hill, at 14 stories and a construction cost of $175 million with a penthouse that was going for $5.9 million and the 10-story 41 West with a construction cost of $60 million and a penthouse priced at $4.7 million.
Choosing a Smaller Project
"We could have put upward of 38 units on the site. Instead we chose to do a smaller impact development, smaller density but trying to hit a price point on our sales side that would give a luxury product at a cost per square foot that is extremely reasonable compared to everything else," Hardy said. "What we tried to do is really make these a little bit less like condos and a little bit more urban homes. You really have everything that you have in homes — flowing floor plans. Nothing's chopped up."
With a background in financing, Garland is relatively new to housing development.
He is the former CEO of Goal Financial — a student loan lender — a former vice president of finance for Capital One, and a former financial controller for Household Finance. His first project was The Dakota — eight town-homes he built in 2016 on a 10,000 square-foot lot in North Park.
"I was looking for something of similar scale," Garland said, when he came upon the Bankers Hill property.
"I was looking for another urban lot that I could build a bigger place on," Garland said.
A resident of North Park, Garland said he prefers infill projects.
"I understand it. I kind of feel if I bought 30 acres out in East County some place, or North County or South County, it's not something I'm that familiar with," Garland said. "I get how people live here. I've lived here for a long time. I get who's buying here."
Subdued Yet Urban Environment
He was drawn to Bankers Hill because of its subdued yet urban environment.
"It doesn't have all the excitement and razzle-dazzle of maybe the Gaslamp (Quarter) or downtown or Hillcrest or North Park," Garland said. "It's just quieter but at the same time you have access to everything people want to live near. There's cool things going on. There's restaurants and the park's right there."
Palatine is two blocks west of Balboa Park.
Once Palatine is finished, Garland said he plans to try building something a little larger — maybe twice the size of Palatine.
"It's something I can get my arms around," Garland said.
Anything much bigger, "it starts to become like a real job. That's not what I'm interested in."