ELECTRONICS DESIGN SOFTWARE FIRM HAS WORLDWIDE REACH
Altium Gets Bigger As Printed Circuit Boards Get Smaller
Monday, October 28, 2019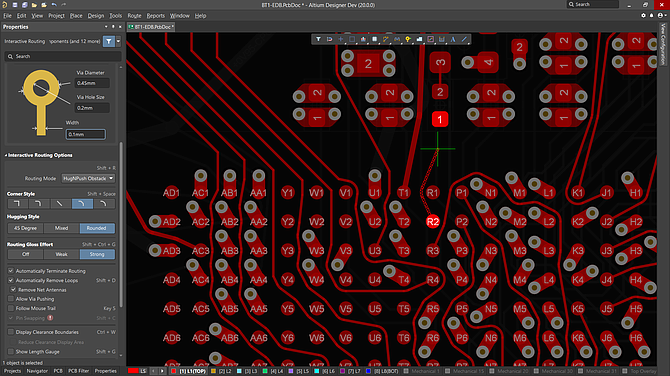 There is a science to designing an electronic circuit. And an art to laying out a printed circuit board — the foundation that both holds and connects the circuit's myriad electronic components.
A software company based in San Diego's University Towne Center neighborhood walks designers though the printed circuit board design process.
The company is Altium LLC, and it employs nearly 800 people in 25 offices all over the globe. Customers include BAE Systems, Leica Microsystems, Microsoft and NASA.
The business has had seven years of double digit revenue growth approaching 20 percent, said Ted Pawela, the company's chief operating officer. Revenue grew from $140.2 million in fiscal 2018 to $171.8 million in fiscal 2019.
Australian Roots
The business was founded in Hobart, Tasmania in 1985 by people who wanted to move the electronics design process from pencil and paper to computer-aided design. The business' stock trades on the Australian stock exchange.
The company's core product, Altium Designer, accounts for roughly three-quarters of its revenue. A new version 20 has just appeared on the market.
With the market and technology constantly in flux, new software versions appear yearly. One trend is high-density, high-speed circuits that take up only a small amount of space. Among other things, Altium Designer 20 can accommodate high-density circuitry known as HDI boards.
Altium Designer can handle projects from the simple to the complex, with one or several designers in charge. The tool takes in the entire design process: users can create schematics and printed circuit board layouts, run circuit simulations, select and source electronics from various manufacturers, and document designs for manufacturing.
The Sum of its Parts
Altium got so big, in part, by acquiring other companies. It bought Ciiva and PCB:NG in 2015 and 2018. Both concentrate on the electronics manufacturing process. It bought Octopart, which focuses on the electrical components soldered to circuit boards, in 2015. Altium's entire product suite aims to keep designers, manufacturers and people supplying electronic components on the same page, avoiding all too common situations where the circuitry has to be reworked.
Also driving growth is a customer base in China. Altium reported record revenue growth in the country and an expansion beyond Shanghai and Shenzhen to Beijing.
Altium has roughly 230 employees at its UTC area offices.
The business had 43,700 subscribers in 2019, along with $171 million in revenue. It has set a goal of 100,000 subscribers and $500 million in revenue by 2025.
The market looks poised to grow with the proliferation of smart and connected devices, Pawela said.
Competitors in the printed circuit board software space include Zuken, Cadence and Siemens.
In the Market for Talent
Pawela said one of the biggest projects on his desk right now is attracting high-caliber talent for the San Diego office. "We've grown so much so quickly," he said.
His task is to position Altium as an attractive place to work while competing with other companies — including companies in Silicon Valley — for talent. Altium has to market itself as an employer, he said. "That's new to us."
The business hopes to add 200 employees worldwide over the next year.
Pawela previously worked for MSC Software, Accelrys and BIOVIA. He came to Altium as chief marketing officer in 2016. He made the jump to chief operating officer 16 months later, in January 2018. As COO, he concentrates on marketing, mergers and acquisitions, partnership activities and strategy development.
He received his bachelor's degree in ocean engineering from Florida Institute of Technology, and got his master's degree 10 years later from Michigan State University. He received his MBA from Instituto de Empresa in Madrid, Spain.