Accion's San Diego Branch Lands $300,000 to Support Diverse Business Owners
Sunday, October 27, 2019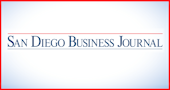 Accion Serving San Diego, a local microlender, received a $300,000 grant from Wells Fargo to support diverse small business owners in San Diego County. The funding will support Accion's programs, including its Rapid Loan, which provides up to $8,000 to small businesses looking to get funding quickly.
Accion received a similar grant two years ago as part of Wells Fargo's Diverse Community Capital program.
"Wells Fargo has been one of Accion's largest financial supporters since we started in San Diego in 1994," Accion CEO Elizabeth Schott said in a news release. "We are thrilled to receive this funding to expand our lending program and serve more diverse entrepreneurs that need access to affordable lending products. This grant highlights the need for both technical assistance and funding to grow small businesses."
To date, Accion has worked with more than 500 diverse business owners in San Diego, Imperial, Riverside, and San Bernardino Counties.
Accion said it provides funding to startups and established businesses in these four counties. Companies can apply for loans of up to $75,000. To be eligible, the company must not have filed for bankruptcy in the past year, must not have any outstanding liens or judgments, and must show its capacity to repay the loan.