TRACKFORCE, SMARTDRIVE LEAD THE WAY; HEALTH CARE STILL OVERALL WINNER
VC Investing Is Strong for Q3; Tech Makes Inroads
Wednesday, October 23, 2019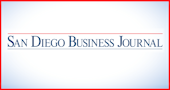 Tech companies led San Diego's top venture capital rounds last quarter, bucking the region's reputation as a biotech hub.
Trackforce Valiant, a local company that makes workforce management software for security companies, led the pack with a $150 million funding round backed by K1 Investment Management, according to PricewaterhouseCoopers' and CB Insights' quarterly MoneyTree report. UTC-based vehicle telematics company SmartDrive Systems followed close behind, raising $90 million from TPG Sixth Street Partners.
Local companies raised a total of $707 million across 34 deals in the third quarter, down slightly from $929 million raised during the same period last year across 28 deals. But even with the slight dip in VC funding, San Diego startups are still on track for another strong year, said Eric Hornsten, a San Diego partner with PricewaterhouseCoopers.
"While it's down, it's still very, very healthy," he said. "It's still higher than many of the recent comparable quarters."
It's worth noting that last year, with companies raising a total of $2.66 billion, venture capital funding approached levels not seen since the dot-com bubble of 2000. So far in 2019, companies have raised about $1.83 billion.
By total raised, health care was still San Diego's largest sector, bringing in a total of $272 million in funding during the third quarter. However, it made up a smaller share of the pie than in previous quarters.
Mobile and telecommunications companies brought in $150 million, and internet companies (which can include some SaaS companies) brought in $96 million. Automotive, likely referring to SmartDrive, brought in $90 million.
"It's consistent with a broad trend in San Diego: health care is the No. 1 industry (for funding) and SaaS is no. 2," Hornsten said. "It's great. There's a diversity of companies that are getting funded."
At a national level, companies raised a total of $25.9 billion in the third quarter across 1,304 deals. That's down 12 percent from $29.5 billion raised during the third quarter of 2018, across 1,528 deals. n