Diabetes Prevention Startup Lands $100,000
Wednesday, October 23, 2019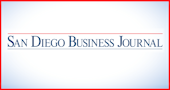 The Skinny Gene Project, a San Diego-based nonprofit working to prevent Type 2 Diabetes, raised a $100,000 impact loan from Mission Driven Finance. It will use the additional funding to acquire compliant data systems and grow its workforce.
The company, led by Executive Director Marlayna Bollinger, brings diabetes prevention programs to at-risk communities. For example, it provides one-on-one counseling, online classes and community cooking classes to reduce the risk of developing diabetes.
Two months ago, the Skinny Gene Project graduated from City SAIL, a local business accelerator for nonprofit companies put on by Mission Edge and funded by the City of San Diego. The program provides nonprofit startups with business tools and mentorship, helping founders develop sustainable business models that bring in earned revenue with donations.
Bollinger said the program was helpful in accelerating her company's growth.
"The City SAIL Program helped me reframe my whole understanding of our business and propel us forward," she said in a news release
The next cohort for the SAIL program will take place in spring of 2020 and applications will open in January.