Bionano Genomics Plans $18M Stock Offering
Wednesday, October 23, 2019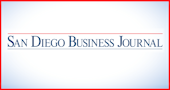 San Diego's Bionano Genomics plans to raise $18 million through a public stock offering, the company said Oct. 21.

The company looks to sell 20,937,558 shares of common stock at $0.86 per share.
Bionano said it would use the proceeds for general corporate purposes, including working capital, sales and marketing, and capital expenditures. With the announcement, company shares fell 45% to close at $1.04 on Oct. 21.
The offering is expected to close Oct. 23.
Bionano's platform is used to detect structural variation in genome analysis.