BIOTECH: DEVICE APPLICATIONS INCLUDE SPORTS, MILITARY
Changing Hydration from Guessing Game to a Science
Tuesday, October 22, 2019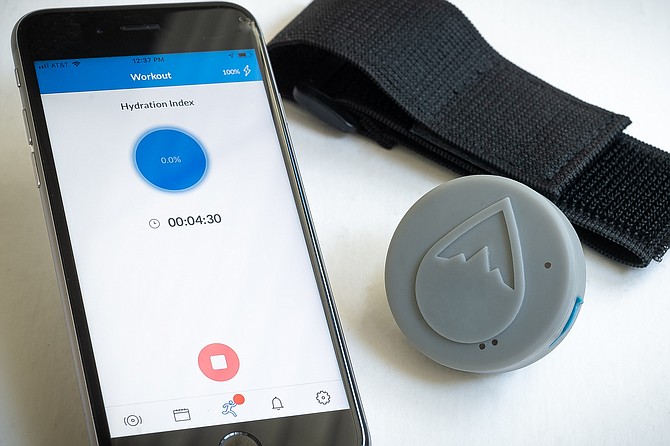 Debbie Chen can throw a punch.
She began competing as an amateur Muay Thai fighter before she founded her hydration monitoring startup, Hydrostasis, two years ago. Her time in the ring first sparked the idea for the company.
"I noticed I would cramp a lot, and I noticed I needed more water than my teammates," Chen said. "What I wanted was someone to tell me before I started cramping, before some catastrophic event happens."
Chen recalled the research she had done when she was working on her Ph.D. in biomedical engineering at Tufts University. She and her colleagues were working on an imaging technology, and were looking for a difficult-to-characterize signal for blood flow. She thought looking at a signal for hydration would be much easier.

"I thought, 'wouldn't it be great if we looked at that?'" Chen said. "I shelved the idea for a long time, until I became an amateur fighter."
In the Moment
Chen began kickboxing after having her daughter. She had moved back to San Diego for a postdoc, and later began working as a scientist for Sanford Burnham Prebys Medical Discovery Institute.
The whole thing started as a personal challenge, Chen said. She had been thinking about moments when she wished she spoken up more during a debate or peer review. She looked to try something new — something that would push her out of her comfort zone.
"I thought, 'There is no way I'm going to get up on a stage inside this ring and punch someone in the face,'' she said.
Chen lost her first fight. Her coaches told her it was because she didn't think she could do it. She learned to bring a fighting mindset to her career as an entrepreneur, when she founded Hydrostasis in 2017.
"You have to be very disciplined. … You have to trust your coaches and your teammates," Chen said. "You have to get punched in the face and get back up. You have to believe you can do it, because otherwise, why are you here?"
Chen's startup builds wearable devices that can detect hydration levels. The company's devices use a light-based sensor to gain hydration information from muscle tissue.
One of the challenges, is that hydration is complicated. It's much more than simply measuring water in, water out.
Cracking the Code
"There are a whole slew of things that are happening within the body," Chen said. "That's why this is a really challenging problem space. If we can crack this code, then we have the key to a really fundamental measure of health."
Hydrostasis' team of five has been at work testing its prototypes with local athletes and coaches. The company has raised a friends-and-family round, as well as $20,000 from Ad Astra Ventures, the new incubator program created by Silvia Mah, Vidya Dinamani and Allison Long Pettine. Hydrostasis also received a subgrant from Connect with the San Diego Venture Group, and more recently landed a $50,000 grant from the U.S. Air Force Small Business Innovation Resource Program.
The first phase of the grant is to see if the technology can meet a need within the U.S. Air Force. Later phases of the grant would allow Hydrostasis to receive up to $1.5 million in matching funding for investments, and to become "sole source eligible," which would allow for easier contracting within the Department of Defense. One potential use case would be to track hydration levels for fighter pilots, who become more susceptible to g-forces when they are dehydrated.
Beta Launch
Chen is currently focused on two future avenues: validating the device's use for athletes and for patients. The company plans to do a beta launch of the next version of its device at the end of the year, after testing hydration and performance metrics with University of San Diego athletes.
Hydrostasis will also get help on the clinical side after being accepted into the Qualcomm Tricorder XPRIZE. Funded by the Qualcomm and X Prize foundations, the program supports developing medical devices that can diagnose a number of conditions.
As part of its participation in the program, Hydrostasis will have access to mentorship to help the company design the best trials for its device. In particular, the company will have access to experts at UC San Diego's Jacobs School of Engineering, Rady School of Management, and Altman Center and Translational Research Institute.
Commercialization Partner
"We're a commercialization partner with the Altman Center to be able to help teams like Hydrostasis do the clinical work and look at the business opportunity going into the market," said Dennis Abremski, executive director of UC San Diego's Institute for the Global Entrepreneur. "The clinical piece many times will validate the performance and the requirements in a better way."
After seeing Chen's company go through a medical device workshop at UC San Diego, Abremski said he realized Hydrostasis was a strong candidate for the program, and the company was nearing a point where it could use that expertise.
"She was ready to get into clinical trials and that's the inflection point," he said.
In her spare time, Chen still competes in Muay Thai. She also keeps her energy up by having a group of mentors she can turn to for advice when the going gets tough.
Chen said it was also important for her to spend time with her two kids, ages 2 and 4.
"They bring me back to what's important. It makes me a better founder and CEO," she said. "(Starting Hydrostasis) has been the most difficult, most wonderful and growing experience that I've ever had."