EVENTS: LUNCHEON TOPICS TO INCLUDE BOARD QUALIFICATIONS, MENTORING
Business Women of the Year, Purchase Tickets before November 13
Monday, October 21, 2019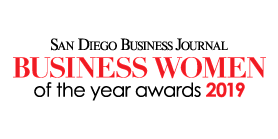 Like many of us, Patti Roscoe has a story of observing San Diego as a tourist and coming the live here as a resident. She moved to the region from Buffalo, N.Y., in the mid-1960s.
In the time since, she became a top manager in the tourism industry and an integral part of the community.
Roscoe will be honored with a Lifetime Achievement Award on Wednesday, Nov. 13 during the 26th annual Business Women of the Year awards luncheon, organized by the San Diego Business Journal.
Purchase tickets soon. Visit sdbj.com/bizevents to purchase tickets to the Business Women of the Year event.
Luncheon Is Nov. 13
Winners will be announced during the event, which will run from 10 a.m. to 2 p.m. at the Hilton San Diego Bayfront at 1 Park Blvd. downtown.
Carrie Stone will be the afternoon's keynote speaker. She will discuss "Building Your Value and Brand for Boards." Stone is president of cStone & Associates, a global executive search firm.
Holly Smithson will moderate a panel discussion on "Getting Women on Boards, Gaining Mentors and Becoming One." Smithson is the CEO of Athena, a women's empowerment organization that fast tracks women in STEM through leadership development.
Sponsors for the event are Kaiser Permanente, Marsh & McLennan Agency, Sony Electronics, Southwest Airlines, Union Bank and GreenRope.
Once again, the American Heart Association is charity partner for the event.
Lifetime Achievement
"I'm absolutely thrilled" to be getting the Lifetime Achievement Award, Roscoe said. "To get this kind of recognition at this point is really very exciting. A lot of people could get this award. There are so many people doing wonderful work."
Roscoe worked in broadcast media in Buffalo, but switched to tourism on arriving in San Diego. She learned the visitor business — and about business in general — from an early boss and mentor, Martin Blatt. She ran her own destination management company from 1981 to 2007 and contributed to several causes and organizations in San Diego.
Now retired, she is still active in the community. Roscoe volunteers with San Diego State University, supporting its hospitality and tourism management program (which she co-founded) as well as musical theater and athletics. She also chairs its Stewardship Committee. Roscoe never got the chance to go to college; "I think I'm vicariously living my non-college experience," she said with a grin.
Roscoe is a plank owner of the USS Midway Museum. She sits on the board of the Balboa Park Conservancy and is past president of the San Diego Rotary Club and a past chair of the San Diego Convention & Visitors Bureau (now the San Diego Tourism Authority).
Prev Next