NuttZo Makes Revenue Based Funding Deal as It Plans Expansion
Sunday, October 20, 2019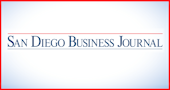 Del Mar-based health food company NuttZo announced a new seven-figure investment from Decathlon Capital Partners. Specific terms of the deal were not released.
According to the company, the investment will be used to create new foods and expand its footprint. The company's products include nut and seed butters, bars and "2GoPacks."
A portion of sales goes to support Project Left Behind which assists orphanages around the world, said CEO Danielle Dietz-Livolsi.
According to the company, NuttZo products are sold in more than 10,000 stores including Whole Foods Market, Costco Wholesale, Sprouts Farmers Market, Kroger, Walmart and Jimbo's
The CEO recently told the Business Journal that she expects sales to increase 35% in 2019.
According to a news release, "Decathlon Capital Partners provides growth capital for companies seeking alternatives to traditional equity investment. Through the use of highly customized revenue-based financing solutions, Decathlon provides long-term growth capital without the dilution, loss of control and operational overhead that often comes with equity-based funding."