VACANCY RATES ARE LOW; RENTS REACH RECORD HIGHS
Lack of Downtown Office Space Has Been Years in the Making
Sunday, October 20, 2019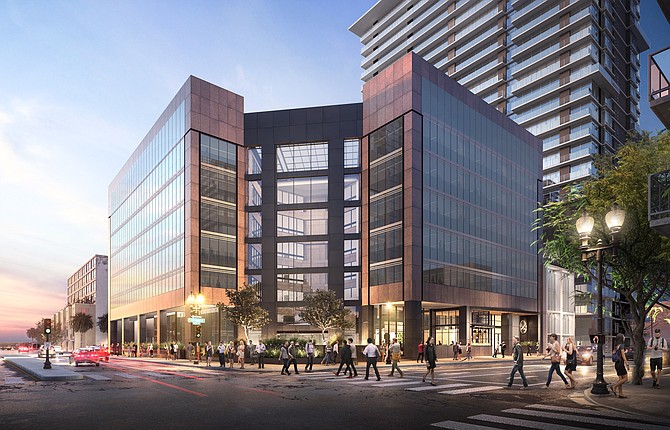 San Diego is falling behind other metro areas when it comes to building new office space in central business districts.
Over the past 10 years, San Diego has increased its overall office inventory by 9.1 percent, adding 61 buildings with 8.4 million square feet, according to Commercial Café, a national commercial real estate listing company.
None of that has been in the core business district downtown, according to Commercial Café, although some office space has been added in East Village with the completion of the five-story Block D by Lankford & Associates and the renovation of the six-building Ratner by Paragon Real Estate Investments.
Of the 20 metro areas, the company surveyed, only Boston also failed to add new office space in its core business district.
Little Italy Construction
Both Boston and San Diego have office property under construction — San Diego with the Kettner & Ash project at 1420 Kettner Boulevard in Little Italy.
Built in 1984, the former U.S. Bank building was vacant for several years but is undergoing a complete overhaul by its owners — DivcoWest Real Estate Services and Ocean West Capital Partners.
The seven-story building was gutted down to its concrete floors and walls.
When the renovation is finished, the building will have 123,059 square-feet of wide-open creative office spaces.
Nationally, 682 million square feet of office space have been added in the past 10 years, according to Commercial Café.
New York City and San Francisco grew the most on the fringes of urban cores, the company said.
In California, 92.4 million square feet of office space has been added in the past 10 years.
Intense Demand
With the scarcity of new office space in downtown San Diego over the past 10 years, demand for office space is intense, according to reports out this month from several commercial real estate brokerage firms.
In the latest, Kidder Mathews reported that vacancy rates hover around record lows while "asking rents soared to yet another all-time record high."
"Market pricing for sales transactions in the third quarter remain at an all-time high as well," Kidder Mathews said. "Additionally, occupancy levels continue to remain at the highest level they've been in over 10 years, helping with strong positive net absorption on an annual basis and low availability."
Among recent notable transactions, LaSalle Investment Management acquired a partial interest in the UTC campus of Illumina at 5200 Illumina Way.
As part of the deal, LaSalle said it will be looking at a possible expansion of the campus.
The firm declined to say how much it paid or the size of its share, but the commercial real estate research company CoStar gave the price as $299 million and said LaSalle picked up 49 percent of the campus comprised of five buildings.
The investment is LaSalle's first in the booming life sciences market.
"It is a complementary approach to the firm's medical office strategy, which falls in the niche property type where there are multiple long-term demand drivers that will support investment performance in this category," LaSalle said in an email.