REAL ESTATE: ROOM FOR GROWTH REMAINS IN SMALL SECTOR
Coworking Scene Sound in San Diego
Sunday, October 20, 2019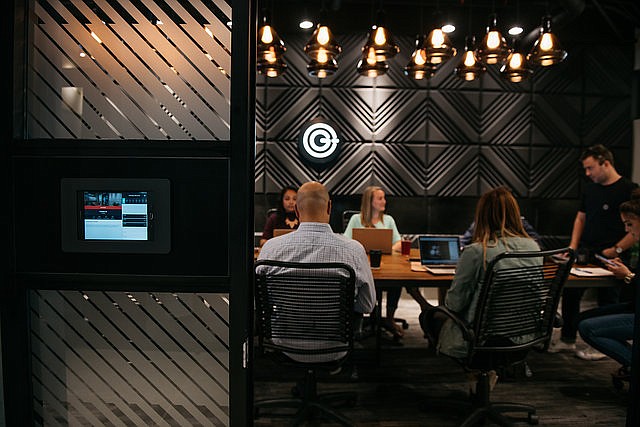 Fallout from the apparent implosion of WeWork is unlikely to have much of an effect in San Diego County, where the overall coworking market is strong according to several economists, brokers and coworking companies.
In the short term, the sense is that coworking will continue to grow in San Diego.
Longer term, there is some uncertainty about the pace of that growth, although most agree that coworking isn't going away.
"I don't see it continuing to grow at the same speed as it has for the last 10 years," said Bennett Cherry, a professor of entrepreneurship and management at California State University San Marcos.
"Ten years, ago, there were a lot of displaced workers," Cherry said.
Many who lost their jobs turned to coworking spaces to become entrepreneurs and contract workers.
"There's a little bit of difference now," Cherry said.
WeWork was one of the companies that blossomed coming out of the Great Recession.
The company has two locations in San Diego County — 600 B St. in the heart of downtown and 810 University Center in the Aventine building in UTC.
Both are in hot submarkets for office space, so that if WeWork were to vacate the locations, the betting is that someone would move quickly to take the office space.
Coworking: A Small Player
In the overall office market, coworking is a small player, accounting for about 1.5 million square feet in 107 locations in San Diego County, according to a June report from the commercial real estate brokerage Cushman & Wakefield.
While more than a million square feet may sound like a lot, the overall office market in San Diego County is about 80 million square feet, according to Cushman & Wakefield.
"It's a pretty minimal component of our overall marketplace but I would say it's kind of a validated business model," said Tim Olson, a managing director of the commercial real estate brokerage JLL. "It's something that will continue to have a presence."
Coworking Footprint
Nationally, coworking accounts for 1.1 percent of the overall office space.
The biggest chunk of office coworking space is in downtown San Diego, which accounts for 21 percent of the coworking space countywide, followed by Carlsbad, which had 16 coworking sites, accounting for 14 percent of the coworking space as of June, according to Cushman & Wakefield.
"It's a space offering that's been attractive to a lot of small startups and individual providers," Olson said. "Some mid-level companies go into it just for the flexibility of it and having the amenities built in."
Cushman & Wakefield reported that "a number of providers are seeking to expand their footprint in San Diego, hoping to ink deals within the next year."
Regus has more coworking space than anyone else in the county — 288, 315 square feet in June — about 19.1 percent of the total, according to Cushman & Wakefield.
S.D.'s Big Players
The other big players in San Diego are Premier Workspaces with 152,089 square feet, WeWork with 140,644 square feet, Boxer Workstyle with 103,325 square feet, SmallOffices4Rent.com with 79,600 square feet and Novel Coworking with 65,000 square feet.
"The demand for coworking space seems to just keep growing stronger," said Premier Workspaces CEO Jeff Reinstein.
Reinstein said his company hopes to expand.
"We are always looking for new opportunities that make financial sense," Reinstein said.
Another company that is expanding is Carlsbad-based CommonGrounds, which recently raised $140 million in funding and signed leases to open two sites in downtown Washington, D.C.
To date, CommonGrounds' total leases and management agreements under contract include about 610,000 square feet in 21 locations with 11 opening in 2019 and the balance in 2020. They include a second San Diego location in downtown's Gaslamp in the summer of 2020.
CommonGrounds CEO Jacob Bates said the company is "actively looking at more than 30 markets across North American and some international locations for the right opportunity, whether it be a partnership with a customer, owner or picking up the pieces from another operator's stalled or struggling location."
Waiting List
Bates said the company has a waiting list for space in Carlsbad.
"We have seen a strong and loyal market," Bates said. "There is definitely room for growth, and with the work-life balance that San Diego has to offer, we will continue to see companies, like ours, choose to stay and grow here."
Jack Blumenfeld, an associate with the commercial real estate brokerage Colliers International, said WeWork's problems caused some nervousness in the market, but "there's still a good amount of tenants right now that are looking for these smaller spaces."
"I still see that as a growth industry," Blumenfeld said. "I have a couple of tenants right now looking at it."
Blumenfeld said coworking is especially important to startup companies that can't afford to outfit conventional offices with furniture and equipment.
"Coworking is filling that void," Blumenfeld said.
WeWork's Missteps
Alan Nevin, director of economic and market research at Xpera Group, said the problem with WeWork was "It just grew a little too fast."
"When you see companies like Forever 21 go down, it wasn't that their business was bad. They just had too much debt and that is what happened with WeWork," Nevin said. "They typically signed leases in the most expensive buildings in town. It's a great marketing tool. You look at 600 B St. They have a marvelous office there but it's tough keeping it full."
Nevertheless, Nevin said he expects continued growth for coworking companies that don't get ahead of themselves as happened with WeWork.
"I think the trend is very evident that more and more people are working alone or in small groups and don't want the traditional environment where they have to sign a five or ten-year lease. This way, if they grow, they rent another desk," Nevin said.
Recession Could Result in More Need
Many economists are predicting that there will be an economic downturn within the next two years, creating a bit of uncertainty for coworking companies, but Nevin said that "A recession could actually enhance the attractiveness of these facilities."
"There would be a number of people who would get laid off from traditional jobs and wind up doing 1099 work that would want this kind of environment," Nevin said, referring to the IRS Form 1099 that contract workers file with their employers.
Reinstein of Premier Workspaces said his company remained profitable during the Great Recession and there's no reason to think it wouldn't in any downturn to come.
Focus or Fail
"The only negative impact of the recession for us was that we made a smaller profit," Reinstein said. "I think that coworking companies that aren't focused on return on investment and cash flow are going to get crushed in the next recession."
Stephen Brincks, a finance professor at San Diego State University, said fear of an oncoming downturn has made investors a little skittish about putting money into coworking companies.
"Markets are less willing to give money to companies because they're concerned about the economy," Brincks said. "There's been a shift in how the market perceives coworking. It's perceived to be a little more risky now."
Even so, Brincks said he expects coworking as a trend to continue to grow.
"The question is, maybe a big giant firm like WeWork isn't the way to go. Maybe the market becomes a lot more segmented," Brincks said. "The question is: Does the model need to be changed?"
To some extent, it already has, said real estate economist Gary London, senior principal of London Moeder Advisors.
Rather than lease space to coworking companies, some building owners are going into the coworking business themselves, London said.
"A lot of commercial owners are saying, 'we can be in that business,'" London said. "WeWork made everyone aware that that kind of a business model is attractive, so why not take over that business?"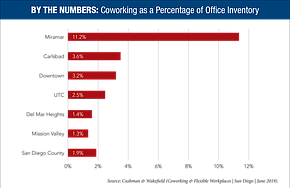 Work From Home
Then too, most of the new apartment projects going up have built-in coworking space, so people don't have to go to a WeWork or other coworking company for space.
"You go into their work space environments during the day, you'll see they're full. These are the same people who formerly would have gone into a WeWork location like 600 B St.," London said.
Bates of CommonGrounds said the addition of coworking space to residential buildings "helps prove the model."
"Whether inside an apartment building or an office building, it only goes to prove that there is widespread and growing unmet demand," Bates said. "WeWork has proven there is demand for flexible workspace. They demonstrated that companies and employees want and need to work differently in the 21st Century."