Ansun Raises $80M for Drug Aimed at Respiratory Infections
Sunday, October 20, 2019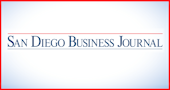 Ansun Biopharma – a San Diego biotech with a drug for respiratory infections caused by influenza and parainfluenza – has raised an $80 million series B round.
That's according to a news release from Huaxing Capital, the financial advisor for the deal.
Chinese investors put up the funding, which will largely go toward DAS181, Ansun's lead drug candidate.
DAS181 is in the midst of late-stage clinical testing for respiratory tract infections stemming from a group of viruses called parainfluenza. For most, symptoms are similar to a cold, but those with a weakened immune system are at risk for life-threatening infection.
A separate mid-stage clinical trial is testing the drug in patients with severe influenza infection, followed by testing in two other indications.
Leading the round were Haisong Capital, Dawan District Common Home Development Fund, Jiachen Capital and KIP, with participation from existing investors Yuanming Capital, Lilly Asia Fund, Jingwei China, Materia Medica Capital and Jifeng Capital.
Nancy Chang is the CEO of Ansun, which last year raised an $85 million series A round.