Northrop Grumman Partners with Local Colleges to Prime Talent Pipeline
Thursday, October 17, 2019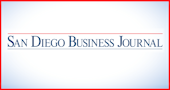 Aerospace and defense giant Northrop Grumman is partnering with two San Diego community colleges to develop programs for future talent.
The company is partnering with MiraCosta College and Palomar College, with plans to launch the pilot phase of the new program in the 2019-2020 school year. The program will provide students with STEM (science, technology, engineering and math) degrees with paid opportunities to learn on the job.
"Establishing a framework to collaborate with education systems is necessary for building a strong local talent pipeline and supports a long-term workforce planning strategy," Northrop Grumman Vice President of Engineering Alfredo Ramirez said in a news release. "Our decision to develop a community college pilot fills a critical gap bridging K-12 and university programming, allowing us to reach and engage students in San Diego throughout their education journey."
For the program's first cohort, a small group of college students were selected to work as part-time engineering assistants and technicians at Northrop Grumman's San Diego Autonomous Design Center of Excellence. They will also earn credit at their respective schools.
Northrop Grumman's effort dovetails with the San Diego Regional Economic Development Corporation's inclusive growth initiative, which set a regional goal of creating 20,000 new jobs by 2030. Headquartered in Falls Church, Virginia, Northrop Grumman has nearly 5,000 employees in San Diego.