COMPANY TO CHARGE FOR APP, PLANS TO ALSO DEVELOP A JOB HEALTH FEATURE
LifeCouple Keeps Couples Connected To The Relationship
Wednesday, October 16, 2019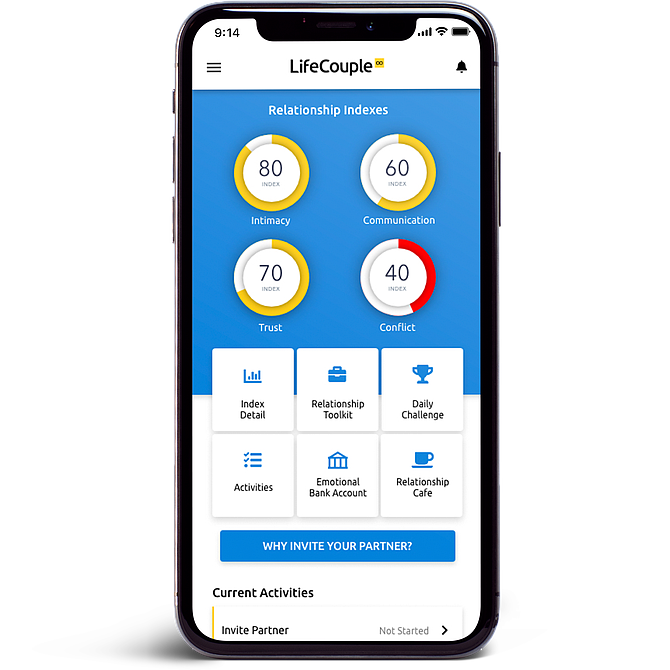 Sean Rones, a Carmel Valley-based entrepreneur, didn't realize his relationship was out of balance until he found himself at the therapist's office. It started, Rones said, with thinking the success of his marriage was tied to the success of his business ventures.
"I was on the verge of getting divorced," Rones said. "We both wanted the marriage to work. I started working on myself. She started working on herself. We decided to turn it into an entrepreneurial endeavor."
Sean Rones and his wife, Natalie Rones, founded LifeCouple in 2017. They designed an app to help couples keep track of their relationship's health. Sean Rones had an 'aha' moment after she came home from her Spin class and showed him the score on her Fitbit.
"I started thinking, there has to be something that can track your progress working on your relationship," Rones said. "When you start seeing the needle moving up, you get encouraged."
Rones has already drummed up 10,000 users for the app. It's free for now, though he plans to implement a paid version next year.
Raised $575,000
LifeCouple raised $575,000 in pre-seed funding earlier this year. The company currently has eight employees, and is raising a bridge round, which it plans to use to build out new features for the app.
Users who download the app start by measuring certain aspects of their relationship on a scale of 1 to 10. Those include trust, intimacy, communication and conflict. Then, the app asks for periodic updates to see how the relationship is progressing, Rones said.
'Emotional Bank Account'
The app also includes an "emotional bank account," where partners write something nice the other person did for them, and assign a value to it in points.
"I think the most interesting thing that I've learned is that people need reminders. We've learned that people do enjoy measurement and seeing some kind of North Star," Rones said.
Having things in writing can also create a level of specificity. For example, what does it mean to be a better communicator? How do you measure that?
In the future, Rones plans to add a new feature for businesses' HR departments that would track employees' job health and satisfaction.

"When you look at how much time spent in our lives, what are the things we do? We spend time sleeping, spend time working, and spend time with family or in a relationship," he said.