ANDREW VASSILIADIS TO LEAD CLUB WITH WARREN SMITH
Soccer Team Owner Sees It as a Business And a Community Investment
Tuesday, October 15, 2019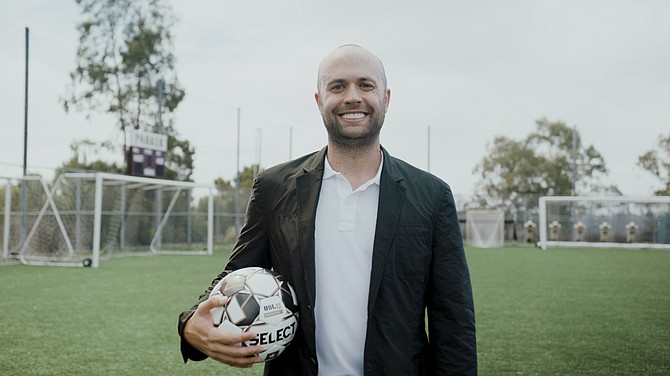 In mid-June, Sports Illustrated reported that retired professional soccer player Landon Donovan and his business partner, Warren Smith, were looking for local investment for their United Soccer League San Diego team. A few weeks ago, in late August, the deal was officially sealed.
United Soccer League (USL) San Diego, the soccer team founded in June and based in San Diego, has named S.D. native Andrew Vassiliadis as chairman. The terms of the deal, finalized at the end of September, were undisclosed as per club policy.
The 36-year-old Vassiliadis, a local businessman and philanthropist, is currently the youngest principal owner in USL Championship and will lead the club along with Smith, the founder and president, in preparation for the inaugural USL Championship season in 2020.
"The recent Sports Illustrated article really sparked my interest," said Vassiliadis, adding that he first met Smith early summer and negotiations began mid-July. "I heard about USL, but didn't dive into it until I read the piece… The more I have learned, I truly feel that USL has positioned itself for success with the structure and number of teams coming in, to really push forward knowing what is next for the U.S. soccer landscape with World Cup in 2026."
Vassiliadis attended Long Beach State University before returning to San Diego to help with his immigrant Greek family's real estate business. For 15 years, Vassiliadis worked in the entertainment industry and, afterward, invested in an app called Mention My Biz. He also serves as the vice president of the Vassiliadis Foundation and as a soccer and volleyball coach at his alma Mater, Francis Parker School.
"From my personal standpoint, my investment in USL San Diego and the league comes down to my firm belief that sports can transform a city and region," Vassiliadis said. "I am a San Diego native and grew up a sports fan. I have witnessed the transformational elements of sports to gather a community together… Owning a USL club is as much a community investment for me as it is a business investment."
USL San Diego is the newest member of USL Championship, a Division II pro soccer league sanctioned by the U.S. Soccer Federation with more than 30 clubs across the United States and Canada. The San Diego club will play at Torero Stadium under a three-year agreement with the University of San Diego and, according to Smith, there are plans to look for a potential stadium solution in the near future.
"Ideally, we are building a 12,000 to 15,000 seat modular facility (similar to Sacramento Republic FC's Papa Murphy's Park and the Phoenix Rising's facility in Tempe) so we can have a more permanent place to call our home pitch," he said.
Smith has a long history with building sports teams; he founded the Sacramento Republic, a 5-year-old USL team and champion, among other accomplishments in the sector. For Smith, his goal is to also make the San Diego team, along with Vassiliadis, a highly competitive contender.
"I first got excited about soccer when I was involved with the (Minor League Baseball) Sacramento River Cats and we took the operations for the Portland Beavers of Triple-A baseball in 2004," he said of his trajectory. "At the time, the Portland Beavers also came with a USL team named the Portland Timbers. We later turned around this USL team and sold it to Merritt Paulson (of Peregrine Sports LLC) in 2007. Merritt took the club from USL to (Major League Soccer) in 2010 and it was through this experience that I not only saw the impact and strength of soccer in a community, but also the potential of USL."
Smith went on to found Sacramento Republic in 2014 and sold it in 2017 to Sac Soccer & Entertainment Holdings, which Smith said is "the group that is now taking Republic FC "to the next level" of MLS.
"After watching the incredible growth of soccer in San Diego, both in the number of people that play and watch, USL and I talked about taking my experience and background in building pro sports teams to help this region accomplish a strong soccer brand," he said, adding that he was awarded a franchise by the USL in June.
USL San Diego's first season will kick off the first weekend of March 2020 and end in October. The season will have 34 matches, 17 of which will be played at home, along with the Lamar Hunt U.S. Open Cup in the spring, said Smith. He said there may also be a preseason match or two in February 2020. Meanwhile, Vassiliadis said the executives are currently working on developing the team crest, name and colors, to be announced at a later date.