SDBJ INSIDER: What's Next For UCSD?
Tuesday, October 15, 2019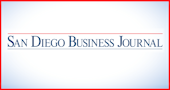 University of California San Diego's economic impact for the state came in at $16.5 billion.
We've given them a few days to celebrate. Time to ask: What's next?
"Growth and connection" are driving forces for the future, according to a university spokesperson.
By 2028, the school is forecast to be the nation's largest residential campus.
A $2 billion construction plan is underway to meet this growth, the university said.
Projects, such as the North Torrey Pines Living and Learning Neighborhood, will help nearly double campus housing and add academic and research spaces to meet students' needs, according to the university. In 2020, the new downtown space at Park Boulevard and Market Street will open with K-14 outreach, innovation training, and enrichment programming.
Some of the companies working on UC San Diego projects include Clark Construction Group, McCarthy Building Cos., Hensel Phelps, Holland Partner Group, Mithun, HKS Inc., Perkins and Will, Safdie Rabines Architects, Carrier Johnson + Culture and others.
The university also says in 2021 the Blue Line Trolley extension will open with two stops on the La Jolla campus. "The trolley opens up UC San Diego's wealth of enrichment, recreation, and entertainment opportunities to everyone from San Ysidro through downtown and points north," the university said.
This growth is expected to increase the economic impact in the state to $18.8 billion in 2023 — $12.9 billion for San Diego.
---
Speaking of driving growth, BuyAutoParts.com is celebrating 30 years in the biz.
Today the company is a $50M, 120 employee-strong national retailer of automotive parts.
It got there by adapting to change and adopting technology right from the start, as well as teaching its customers to use the technology.
Renee Thomas Jacobs is CEO.
---
Newland, a diversified real estate company based in San Diego, announced the promotion of Ted Nelson from president and chief operating officer to chief executive officer.
Nelson will succeed Bob McLeod, who will take the role of executive chairman.
Newland is one of largest planned community developers in the U.S. n