COMMERCIAL USES FOR UNMANNED AIRCRAFT EYED
NASA, General Atomics Aeronautical To Fly UAS Over San Diego in 2020
Tuesday, October 15, 2019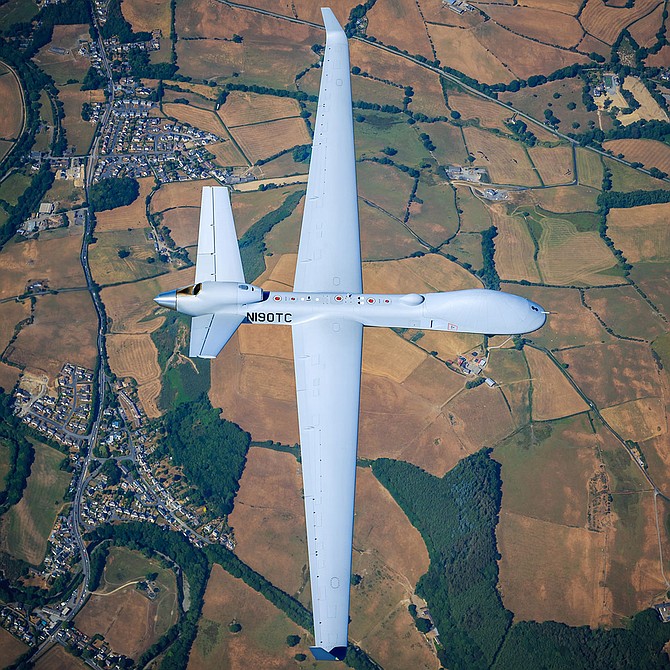 There comes a moment when military technology gets repurposed for civilian roles.
It happened to the internet. What was once a Defense Department network is now a main way many consumers do their shopping.
General Atomics Aeronautical Systems Inc. seems to be getting closer to a moment when its military UAS, or Unmanned Aircraft Systems, go commercial.
Next year, GA-ASI plans to demonstrate the commercial use of its large aircraft while testing how it can be integrated into the national airspace. It will fly one of its aircraft over San Diego.
This is no little quadcopter.
GA-ASI plans to send up its MQ-9B SkyGuardian, a fixed-wing aircraft that is 38 feet long, has a wingspan of 79 feet and weighs just over 6 tons with a full load of fuel.
From Battle Lines to Power Lines
The Poway business has been building remotely piloted aircraft for U.S. and allied militaries since the 1990s. Now, on the eve of the 2020s, some thinkers see a logic in using unmanned aircraft for civilian and commercial uses. Those uses might include inspecting long stretches of infrastructure, such as pipelines, power lines, canals or railroads. Unmanned aircraft can also monitor agricultural land and conduct surveys of areas hit by wildfire or flood.
GA-ASI announced on Oct. 7 that it signed a cooperative agreement with NASA to hold the San Diego demonstration flight. The business said a team planning the San Diego flight completed a critical design review on Sept. 18.
"NASA and GA-ASI have a shared goal of seeing UAS fly safely and unencumbered in the NAS," or National Airspace System, said Linden P. Blue, CEO of General Atomics Aeronautical Systems. "GA-ASI has worked with NASA for more than five years on this goal and we're excited to participate in their next set of demonstrations."
The point of the flight will be "to tackle key challenges that prevent routine commercial UAS operations" in the national airspace today, GA-ASI said in a statement.
The aircraft will fly at about 10,000 feet. It will be equipped with electronics that let it share the sky with other aircraft — manned or unmanned — and avoid them. Such systems will meet the latest standards set by the RTCA (short for Radio Technical Commission for Aeronautics).
The SkyGuardian also carries sensors such as cameras and radar. These or other sensors could gather data needed for civilian or commercial flights, GA-ASI said.
During the San Diego flight, the aircraft will survey pieces of the public infrastructure, according to General Atomics. It did not give specifics, and calls to both the city and GA-ASI were not returned by press time.
GA-ASI is working with the city under its UAS Integration Pilot Program.
GA-ASI Isn't Alone
The San Diego demonstration flight isn't happening in a vacuum.
Northrop Grumman Corp.'s San Diego office has been developing an aircraft called Firebird that can be used for inspection flights. The aircraft can be flown in a manned or unmanned configuration. Within a few hours, a user can remove the Firebird's pilot controls and replace them with equipment that connects it with a pilot at a ground station.
A Northrop Grumman (NYSE: NOC) representative said in April that the company was considering business models for the Firebird, including sales or leasing. In July, it said it signed agreements to sell aircraft to Tenax Aerospace of Mississippi and Grand Sky Development Co. LLC of North Dakota.
Separately, in 2014, Sempra Energy (NYSE: SRE) demonstrated how it planned to use small drones to inspect power lines.