RETAIL: PRICING, ACTION SPORTS CONNECTION HELP DRIVE SALES
Glasses Focus on Style, Lifestyle
Tuesday, October 15, 2019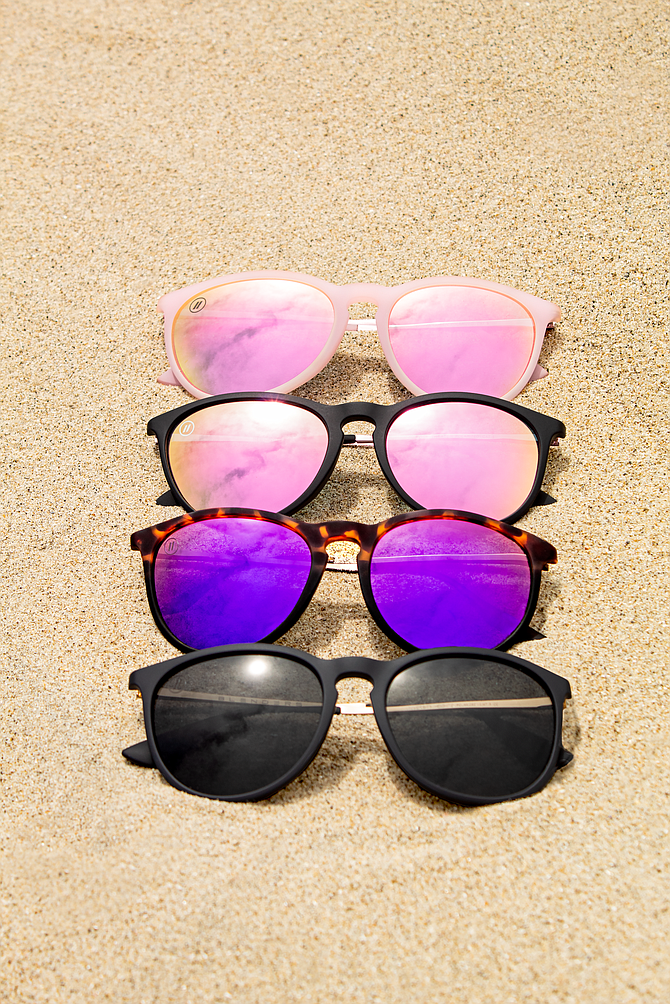 In its first year in business, Blenders Eyewear, founded in 2013, sold about one thousand pairs of sunglasses. By 2018, Blenders moved one million pairs. In 2019, the company is projected to sell 1.5 million sets of shades and its revenue is expected to be north of $40 million, according to the company.
And to think the idea for the multimillion dollar company came to 30-year-old Chase Fisher, Blenders Eyewear founder and CEO, while his 22-year-old self was out for a wild night of partying in San Diego's downtown.
"I was going to see my favorite DJ, Gareth Emery, play a show and I wore some beater shades out to the club that time and my glasses received an overwhelmingly positive response," said Fisher, a Santa Barbara native and graduate from San Diego State University with a degree in communications and media studies. "I was a surf instructor at that time so I was spending a lot of my time at the beach and started noticing sunglasses and saw a huge gap in the market between the $5 shades and $200 Oakleys. I wanted to work on something that was inspired by San Diego and I was passionate about."
With a $2,000 loan from his roommate at the time (whom he paid back within six months with a 25% return, he said), Fisher set out to create sunnies that were a few steps above the non-designer sunglasses, made of cheap plastic with neon colored arms that he used to pick up at the gas station or got as a freebie at a concert, and popular yet pricey options like Ray Bans.
Working On All Facets
His business partner at the time, Blake Jenson, was a graphic designer that handled the look of the glasses the first few years, said Fisher. To find the right manufacturer, Fisher said he used Google and eventually settled for a company in Asia. And, Fisher pretty much single-handedly manned every other department of Blenders until recently, he said, including customer service, logistics and marketing.
"We started with one pair, one customer and one style at a time," said Fisher about how the company began to scale. "In the early days, I was pounding the pavement and doing grassroots 'marketing' and by that I mean, I was selling shades out of my backpack at the beach, pool parties downtown, local music festivals and surf contests."
Once Instagram came about, Fisher said he shifted gears and went full speed on the social media platform to build an online presence for Blenders. He said he used the services of local photographers to curate content for the brand, which attracted the likes of influencers who began adopting the brand, which eventually led to a growth in its digital customer base.
Today, Blenders Eyewear (named after Hornblend Street, where Fisher lived when he launched the company) handles all of its own design, branding and marketing at its Pacific Beach headquarters and outsources manufacturing and fulfillment. Blenders has grown its revenue by 300% in the last two years and its staff has grown from 12 to 30, said Fisher. "We are on pace to grow another 50% in the next year," he said.
Marketing
What's helped Blenders Eyewear's growth has not only been the company's commitment to creating stylish, affordable quality sunglasses and customer experience, but also working with top athletes to promote the brand, said Fisher. In the past, he said Blenders has partnered with the likes of female pro surfer Lakey Peterson, surfer Koa Rothman, pro surfer and Olympic snowboarder Jessika Jenson and pro snowboarder Cam Fitzpatrick, among others.
Fisher's close ties with the surf community comes from his own experience as a sponsored surfer all the way through college, he said, as well as working with Monster Energy, for which he did a nationwide sports marketing tour around the country shortly after graduating.
Online Promotions
Miro Copic, marketing lecturer at San Diego State University, said Fisher's marketing efforts have really helped push the brand forward and spurred the brand's popularity.
"(The company) might have limited distribution but (its) online promotions are pretty cool," said Copic, adding that, for a smaller, local company, Blenders' 358,000 Instagram followers is pretty impressive. "If you go to their website, there's a five-day, four-night trip to the Mexican Riviera one person could win, all you have to do to enter is input your email," he said about a promotion currently running on the Blenders Eyewear site.
Copic added that the action sports look and feel of the Blenders sunglasses are classic and fun and cater well to the surfer/athletic demographic that the brand often sponsors and caters to. He also said that the brick and mortar, located in Pacific Beach, is a good location as it gets much foot traffic, probably even more so in the summer from out of towners wanting to take a piece of San Diego home with them.
Events Presence
Besides sponsoring athletes, Blenders Eyewear participates in a lot of events, said Fisher, from surf competitions to music festivals. The company recently participated in "Groove Island", a music festival on Catalina Island, and is a sponsor of Groove Cruise, he said. Blenders Eyewear now has a store in San Diego and is doing local billboards, he added.
When asked what's been the hardest part about running the Blenders business, Fisher said, hands down, building the right team.
"The ability to lead and manage and hire and develop is hands down the hardest challenge for me," he said. "Some people are really good at it. For me, it's the hardest part about having a business. I can recruit new talent like athletes but managing and training people on the inside is the hardest. Just putting trust in people is a challenge."
Goggles
Recently, Blenders Eyewear began making snow goggles and is looking to branch out into new categories like kids' styles and prescription options, said Fisher. The company is also looking at hard goods for snow, he said, and new channels of distribution like more retail stores and possibly international distribution in the near future.
But, a large part of the brand's focus will always remain local, said Fisher.
"We put a heavy emphasis on local events," he said. "Building a brand that is community-based is so cool… Our customers are people who love the outdoors lifestyle and want to be a part of a brand that celebrates that lifestyle in the most authentic way… The San Diego community really believes in us, and we've been able to spread the word."