STARTUP: COMPANY WENT THROUGH EVONEXUS AND Y COMBINATOR
Sourcify Connects Cos. to Overseas Manufacturing
Monday, October 14, 2019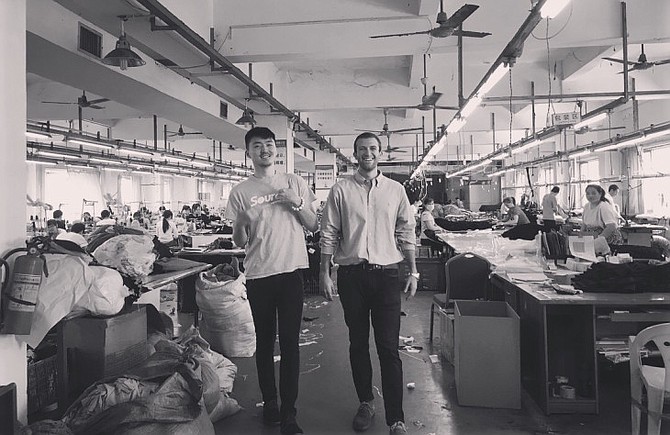 In 2010, when 25-year-old Nathan Resnick lived in China as part of a high school foreign exchange program and after starting his own fashion e-commerce business, he noticed how hard it was to find an international manufacturing partner. So, two-and-a-half years ago, he launched Sourcify, a manufacturing platform that connects entrepreneurs to overseas factories to help fill demand.
"The idea came to me while I was trying to grow my own e-commerce company," said Resnick, originally from Maryland. "I was sourcing and selling my own products — mostly fashion and fashion accessories — on a few different e-commerce places and realized how hard it was to find a factory and manage production runs. Everyone manages their supply chain over email and Excel spreadsheets. We enable customers to use software to better manage production and supply chain."
300% Growth
Since launching in 2017, Sourcify has grown by 300% in sales and now has a team of 25, five of whom are based in the North Park headquarters, said Resnick. The company's annual revenue is $1 million and growing, he said, adding that Sourcify mostly works with midmarket organizations, some Fortune 500 companies including Anheuser-Busch.
CongCong Zheng, professor at Fowler College of Business at San Diego State University and principal at Task One LLC, a San Diego-based management consultancy, said Sourcify is a good addition to the e-commerce, startup space, which currently includes global companies such as China-based Alibaba Group, an e-commerce specialist, and Global Sources, which is hosting its "Global Lifestyle Show" that brings together verified suppliers from Asia in one space in Hong Kong later in October.
"We have a lot of alternatives… but there is a lot of information a buyer gets from suppliers (and) it is difficult to organize that information," Zheng said, adding that this is where Sourcify is key. "When you are trying to introduce a product, a lot of times you are focusing your energy into getting the design correct, thinking about branding, trying to really understand your audience. So, a lot of times, you are in need of a service to help you organize supplier information. I think (Sourcify) is a great, timely addition to this game. It presents us a different way of organizing this crucial, massive amount of information that buyers face."
Resnick said Sourcify was originally self-funded, but since launching, he's had the opportunity to go through two incubators, including San Diego's tech startup-focused EvoNexus and Y Combinator, out of San Francisco, which helps fund early stage startups. Combined, Sourcify has raised $2.9 million, which Resnick credits with fueling the company's recent growth.
The Process
The way it works is companies usually come to Sourcify with their product designs and Sourcify then provides them with two to five production quotes from verified companies, said Resnick. This is followed by a sampling of the product and then a confirmation of the sample. Sourcify then helps the client manage production and quality control, he said.
Resnick said the manufacturers he works with are all across China, Vietnam, India, Pakistan and the Philippines, and all go through Sourcify's verification process before he adds them to his final pool, which now has over 1,000 factories listed. He said it doesn't cost the manufacturer anything to be included, but Sourcify does charge customers a monthly subscription fee for access to the software, as well as a percentage or a commission on production.
These days, Resnick said some of the most popular products Sourcify is working with are in the athleisure sector, like workout gear and bags. He also said fashion and fashion accessories continue to be in high demand.
In the near future, Resnick said he hopes to continue to grow his company, first through the hiring of more employees in Asia, where he said Sourcify has about a dozen staff members already (and eight others in Vietnam). He also said he plans to add a couple more sales and account managers right here in San Diego, although he admits, one of the hardest parts of running the company is growing a team he trust. But a challenge he is willing to take on, nonetheless, because, location is key, he said.
"We love being in the San Diego startup community," said Resnick. "It has been really impactful to be a part of that."