EDUCATION: SCHOOL TO BECOME SANFORD NATIONAL UNIVERSITY
Sanford Gives $350 Million to National University
Sunday, October 13, 2019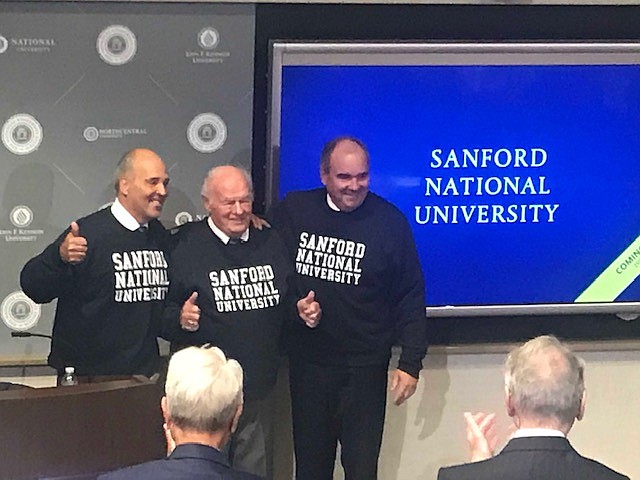 Banker and philanthropist T. Denny Sanford continued his generous support of National University with the announcement of a $350 million gift to the university system, which places it among the top 15 largest donations to a higher education institution. The announcement was made Oct. 8 at the university's headquarters.
This gift follows several large donations including a recent $100 million to support the Sanford Harmony education programs.
To honor Sanford's generosity, the private, nonprofit university announced it would change its name to Sanford National University in 2020.
Focus on Education
The donation continues Sanford's push to expand education and use innovative channels to foster success for students.
A South Dakotan and Midwestern businessman, Sanford amassed his fortune in banking and finance. His philanthropic efforts have emphasized education and health care.
"I am thrilled to be associated with such a world-class organization and am honored and humbled to have my name alongside National University," Sanford said. "I look forward to the positive impact Sanford National University will have on students and society at large and for the inspiration it will provide future generations to make a difference for their families, communities and our nation."
'Critical Challenges'
According to the university, the new initiatives will address "some of the most critical challenges facing the education sector today and provide the private, nonprofit university unprecedented opportunities to create innovative solutions for post-secondary students nationwide."
The university said the gift will advance efforts on affordability as well as develop a "best in class, high-tech, high-touch student experience."
"We are so grateful for all that Denny has done for National University over the years, and are deeply honored to rename the university in recognition of the many contributions he has made to education and our society at large," said Michael R. Cunningham, chancellor of the National University System, which includes National University. "Denny's vision and commitment to solving some of our society's greatest challenges are great inspirations for us as we innovate and develop new models for student success. Clearly, we are very excited to have the opportunity to partner with Denny Sanford to significantly support our nation's post-secondary students for generations to come," Cunningham said.
Sanford's past philanthropic donations include $100 million to create the Sanford Stem Cell Clinical Center at UC San Diego. Sanford also donated $70 million to the Sanford Burnham Prebys Medical Discovery Institute. He donated $30 million to the Sanford Consortium for Regenerative Medicine.