LRAD Posts Record Sales to Law Enforcement
Sunday, October 13, 2019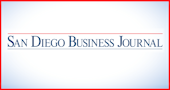 Rancho Bernardo-based LRAD Corp. announced that its U.S. law enforcement sales in fiscal year 2019 were up 93% over fiscal 2018 to a company record $1 million.
LRAD produces mass-notifications systems and electronics that can deliver a focused beam of sound over as many as 3 miles for communications or crowd control.
According to the company its law enforcement sales averaged $683,000 annually over the four previous fiscal years.
The company attributed the increased sales to the performance of its acoustic hailing devices and the complimentary federal grant preparation services it offers departments looking to procure LRAD's systems.
The U.S. government allocates more than $2 billion annually in law enforcement and public safety-related federal grants," Richard Danforth, LRAD CEO, said.
According to LRAD, its systems' have diverse applications, including public safety, mass notification, defense, fire rescue, homeland and border security, and critical infrastructure protection.