BRAIN CANCER COMBO DIDN'T OUTPERFORM CHEMO
Co. Cuts Jobs, Sees Stock Plummet Following Weak Results
Sunday, October 13, 2019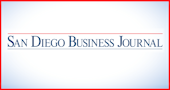 Tocagen is set to slash its workforce by 65% after its brain cancer therapy flopped in a late-stage clinical trial.
With the cuts, by year's end the San Diego biotech will have 30 full-time employees, according to an Oct. 3 news release from the company.
"We have an extraordinary team at Tocagen, which makes this an extremely difficult decision, and we are deeply grateful for the contributions that all of our employees have made to the advancement of our founding vision that No One Should Die Of Cancer," said Marty Duvall, CEO of Tocagen, in a news release.
Extending Its Runway
Duvall said the restructuring will extend the company's runway. Tocagen reported $8.3 million in cash as of June 30.
Last month Tocagen reported its combo brain cancer treatment in a pivotal clinical trial didn't extend patient survival compared with chemotherapy.
What's next?
The biotech, Duvall said, will prioritize in-depth analysis of clinical trial data and present the results at the Society for Neuro-Oncology's annual meeting in November.
From there, Tocagen will consult regulatory agencies to gauge potential next steps for Toca 511 &Toca FC, its drug cocktail that showed signs of activating the immune system against recurrent brain tumors.
Survival Rate Better With Chemo
But initial results from the late-stage clinical trial were disappointing. The drug yielded an overall patient survival rate of 11.1 months, compared with 12.2 months for the control group that received chemotherapy.

The biotech's therapy is designed to deliver therapeutic genes into the DNA of cancer cells. Toca 511 and Toca FC are aimed at recurrent brain cancer patients who didn't respond to other treatments like surgery or radiation.
The company's focus has been on high-grade glioma, a deadly type of cancer that affects roughly 160,000 people per year. Even after undergoing chemotherapy, the cancer tends to recur in patients.
Tocagen's therapy is also being tested for newly diagnosed glioblastoma, advanced solid tumors and invasive bladder cancer.
Last month, analyst Jonathan Miller with Evercore ISI said a detailed analysis of the latest clinical trial data will illuminate whether the drug cocktail could work for other advanced cancers.
$97.8M IPO in 2017
To fund clinical trials and its pipeline, Tocagen in 2017 raised $97.8 million in an initial public offering.
That year, Tocagen accelerated the drug combo's development by combining Toca 511 and Toca FC's second and third phase clinical trials into one final-stage trial.
Also speeding up development was a breakthrough development designation from the U.S. Food and Drug Administration.
Yet the recent clinical trial results deflated high hopes. In the aftermath, Tocagen's stock plummeted 77%.
Tocagen said it would share updated financials in fourth quarter results. n