SPORTS: HIGH SCHOOL COVERAGE USES ADS, B2B TO RAISE REVENUE
Co.'s Sports Platform Has Solid Selling Points
Thursday, October 10, 2019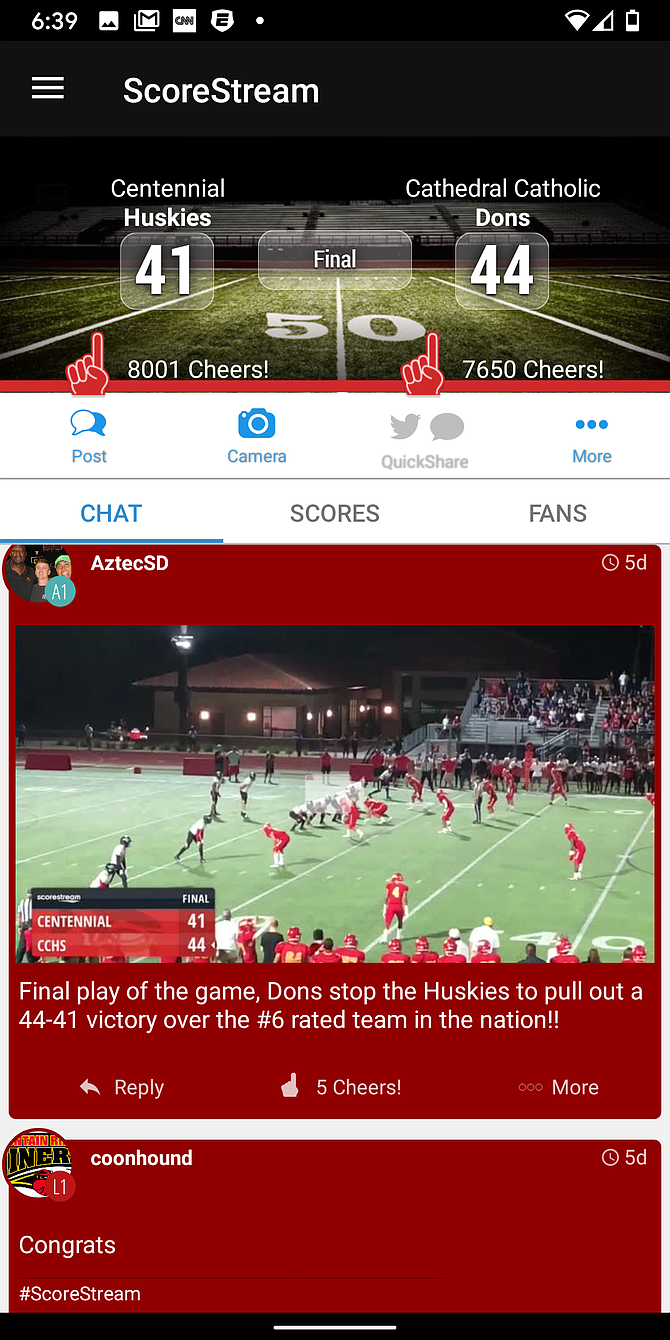 ScoreStream, a crowd-sourced platform for high school sports scores, photos, videos and fan chat, is continuing its growth trajectory, while a new partnership with Amazon has the potential to attract an even larger fan base.
The Del Mar-based company announced recently that it had reached an agreement with Amazon to integrate its real-time sports scores with Amazon's Alexa, meaning users of the voice response system can simply ask for the score of their favorite high school team. The service should get plenty of traffic during the high school football season now in full swing.
High school sports fans will still be able to access ScoreStream's scores and posts through the company's app for both IOS and Android, as well as through third-party websites and media outlets that have incorporated ScoreStream's scoreboard widget into their offerings.
Thanks to the popularity of high school football, the fall season is the app's busiest in terms of user traffic, said ScoreStream CEO and co-founder Derrick Oien. In August, the company tracked 1 million unique users, and that number was expected to reach 2 million in September, Oien said.
The service features scores from about 15,000 games per week across the country, said Oien, including about 6,800 of the 7,000 high school football games played throughout the U.S. each week. Along with football, the site covers all true team sports, said Oien, including volleyball, baseball, basketball, field hockey, rugby and water polo.
$6.8 Million
Since its launch in 2012, the company has raised $6.8 million in investment funds, from a number of large media and telecommunications players, said Oien, including Sinclair Broadcast Group, The Associated Press, Verizon Wireless, iHeartRadio and Intel Capital.
Company revenue for 2018 stood at $360,000, and that number is expected to reach $1 million in 2019, Oien said.
Free App
The app is free to use for fans, so ScoreStream earns revenue with ads on its app and website, said Oien.

"When you start getting into the millions of users you can make some good money selling ads," Oien said.

B2B Aspect
The other source of revenue is "business to business," which includes licensing the company's data to newspapers, radio and TV stations. ScoreStream's feed of scores, photos and comments are also provided for a fee to restaurants and sports bars, from Buffalo Wild Wings to McDonald's, which will display scores and highlights on screens in about 500 restaurants in Los Angeles, Oien said.
The ranks of ScoreStream's fans include high school coaches as well as parents and friends of players, and local sports journalists.
Mike Applebaum, who coaches varsity softball and wrestling at West Hills High School in Santee, came across ScoreStream when he was looking for a platform where he could post scores and highlights for parents of softball players who weren't able to attend a game.
During softball season, said Applebaum, he uses ScoreStream to post the game schedule, along with scores, photos and highlights after the games. In his capacity as head of security at the school, he also attends West Hills' football games, and he takes time from his duties to post those scores as well.
Unlike some sites that provide high school sports scores, said Applebaum, ScoreStream is free for anyone to use, and visitors don't have to be approved by the team before they can access scores and photos.
Policing Itself
The site also is good about policing itself and removing any inappropriate content, he said.
"ScoreStream is family friendly, it has to be clean, there's no profanity or gross pictures, it's all sports-related and geared to be fun," Applebaum said.
The site is also great for relatives and friends of softball team members who live out of town but still want to hear about clutch hits, amazing catches and wicked fast balls, he said.
Applebaum, who hasn't ventured much into the world of Facebook, Instagram and Twitter, said he impressed his two grown children with his ability to post on the ScoreStream app. "ScoreStream is the closest I'll get to social media," he said.
Ramon Scott, who runs the East County Sports website, which covers high school and community college teams, primarily in the Grossmont Conference, said he uses ScoreStream in a number of ways. Along with posting scores, videos and stories about East County teams, Scott said he incorporated the ScoreStream scoreboard widget on his homepage.
"I understand the power of it," said Scott, a veteran sports journalist who has covered East County sports for more than three decades, first as a writer with the Daily Californian newspaper, which folded in 2001, and then through the website, which he ran with the legendary former sports editor of the Californian, Bill Dickens. Since Dickens' death three years ago, Scott has partnered with the late editor's son, Dave.
On Friday nights during the high school football season, which runs from late August through early November (not including playoffs), Scott can be found at an East County game, covering the action on the field. In between plays, he'll be monitoring social media for updates on scores and highlights, posting scores on ScoreStream, and posting on Twitter and Facebook, using two phones.
"I might have some of the fastest thumbs in the county on Friday night," he said.
Data Mining Software
Most of the information on ScoreStream is posted by fans, said Oien, but there are also "trusted sources," such as The Associated Press, which can correct scores if necessary before sending ScoreStream's data to its newspaper clients. ScoreStream has also developed data mining software that monitors social media to verify scores. Oien said ScoreStream's information is 98 percent accurate, and if any discrepancies pop up, fans are quick to bring them to the site's attention.
"People really care about their team, if you report their (score) wrong they let you know immediately," Oien said.
ScoreStream was founded by Oien and three other San Diegans, all of whom worked at MP3.com, a digital music platform, in the late '90s — David Podolsky, chief product officer, Josh Stephens, CTO, and Bruce Worman, CFO. Oien was chief operating officer for MP3.com when it was sold to Vivendi Universal for $372 million.
Looking to the future, Oien sees the company growing to cover more international markets (the U.K. boasts the second-highest number of users after the U.S., with strong interest in amateur American-style football leagues).
Global Scaling
"We think the model we have built could be scaled to cover every single sporting event in the world," Oien said.