McKinney Advisory Group Acquired by Avison Young
Monday, October 7, 2019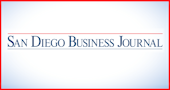 The commercial real estate brokerage and property management firm of McKinney Advisory Group, Inc. based in San Diego has been acquired by Avison Young headquartered in Toronto.
"We've had great success on our own and even been approached by all the major firms over the years, 'why don't you join our company.' I wanted a company that thought like entrepreneurs, that thought like principals that own their own company," said Damian McKinney, who founded McKinney Advisory Group in 2010.
As a privately held company, Avison Young was "the only company that had the culture that we were looking for," said McKinney, who will become a principal and managing director of Avison Young.
The 13 people who work for the firm also will become part of Avison Young.
They include senior vice presidents Nour-Dean Anakar, Julie Dunlap, Jamie Endres Keller, Chris Ly, and Andrew Meyers; Phil Aitken, senior associate; Tyler Repstad, transaction manager; Tresa Dalton, marketing director; Divya Sarah Mammen, marketing manager; Bryn Burrows, marketing coordinator; Crystal Lai, associate, and Kara Pedersen, client service coordinator.
The purchase of McKinney Advisory Group Avison Young's first acquisition in the San Diego County market, said Christopher Cooper, Avison Young's principal and managing director for Southern California.
The firm has San Diego County offices in UTC.
Avison Young wanted to expand its presence in the county because "it's the biotech capital of the country."
"It has some of the most sophisticated, national (property) owners including Kilroy and Irvine," Cooper said, referring to Kilroy Realty that is developing One Paseo in Carmel Valley and the Irvine Company that owns and has developed significant portions of UTC.
"It has a very diverse economy. It's certainly driven by biotech, health care, by defense and by hospitality and tourism. The market in many respects is somewhat immune from macro-economic shocks," Cooper said. "This acquisition gives us tremendous momentum in Southern California and especially in San Diego."
As a principal of Avison Young, McKinney will oversee the day-to-day operations of the San Diego office, the brokerage service in the county and property management.
Real estate reporter Ray Huard may be reached at rhuard@sdbj.com or 858-277-8904.