SDBJ INSIDER: Companies Envision Role For Smart Glasses
Sunday, October 6, 2019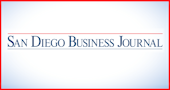 Mitchell International, a provider of technology, information solutions to property and casualty claims and collision repair industries, announced it has developed a proof of concept smart glasses solution for collision repair facilities in strategic collaboration with Qualcomm Technologies.
According to Mitchell, its smart glasses solution uses Qualcomm's Snapdragon XR Platform.
Mitchell said, "Through use of extended reality, repair technicians save time by operating the glasses hands-free, using voice activation to access the most up-to-date, vehicle-specific repair procedures, within their field of vision. The solution also allows technicians to call and collaborate with other experts in real-time, right at the vehicle, and streamlines important functions such as check-in and check-out processes."
Mitchell said it is testing the XR solution with several repair facilities.
"Mitchell's smart glasses solution is a prime example of XR driving innovation in the enterprise and will help transform the way collision repair shops deal with increasing challenges," said Hugo Swart of Qualcomm Technologies.
Speaking of successful collaboration, Karl Strauss Brewing Co. and AleSmith Brewing Co. will introduce Blink of an IPA, a new beer in Strauss' collaboration series.
According to Strauss, the limited release is fermented with Norwegian kveik yeast and will debut Oct. 10 in cans and on draft throughout the state.
The brewer says the "IPA weighs in at 6.5% ABV with aromas of stone fruit and pineapple. It is brewed with Simcoe, Citra, Ekuanot, El Dorado, and BRU-1 experimental hops. The beer is light in body, intense with orange and fresh fruit flavors, and finishes with a pleasant, lingering bitterness."
San Diego-based Youngevity International Inc. is of the of the first U.S. companies to gain the necessary approvals and to begin shipping a line of hemp derived products to Japan, the company said.
Youngevity, a global marketer of nutritional and lifestyle products, announced the launch of its Hemp FX, phytocannabinoid-rich hemp oil product line in Japan. Youngevity said that three products in the line have gained approval for sale in Japan.