DEVELOPMENT: RV PARK IS EXPECTED TO BE COMPLETED IN SUMMER 2020
RV Resort and Bicycle Path to Get Bay-Front Plan Started
Sunday, October 6, 2019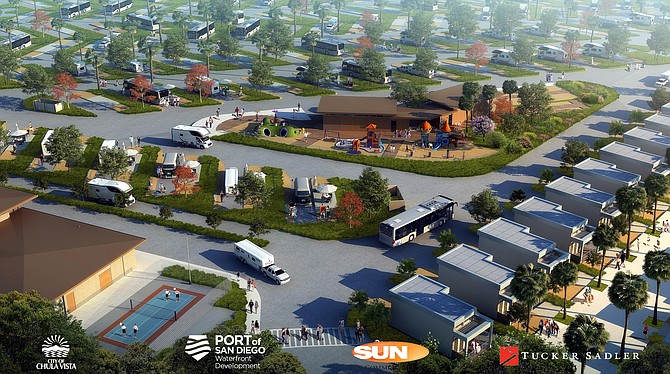 Two key pieces of a $1.1 billion resort hotel and convention center project on Chula Vista's bay front are about the get under way — a $55 million recreational vehicle resort and a nearly $5.7 million bicycle path and promenade.
"They are the first projects under the master bay front plan (Chula Vista Bayfront Master Plan) that are going forward," said Ann Moore, vice chair of the Port of San Diego and Chula Vista's representative on the port commission that's overseeing the project.
For that reason alone, the recreational vehicle (RV) park and the bike path are significant for a project that's been anticipated for more than 25 years, Moore said.
RV Park
"The projects themselves are quite special," Moore said. "The RV park is by a very renowned developer who's developed quality RV parks throughout the country. We're very lucky in that sense. It's going to be a beautiful park."
The Port of San Diego in August signed a 66-year lease with Sun Chula Vista Bayfront RV, a subsidiary of Sun Communities Inc. to develop the Costa Vista RV Resort at E Street and Bay Boulevard.
The park will have 246 sites that will be a mix of traditional RV stalls and temporary cabin-like structures available for rent to the public.
Park amenities will include a children's play pool, a family pool and spa, a sauna, a gym, an entertainment arcade and game room, a business center, covered picnic areas with outdoor grills, children's rock climbing structures, a playground, bocce ball courts, tennis courts, horseshoe pits and a welcome center with a marketplace, restrooms, showers and laundry washers and dryers.
Offsite Improvements
In addition to the park itself, Moore said the developer will make $12 million in offsite improvements.
They will include the realignment of Gunpowder Drive to allow continued access to the Living Coast Discovery Center, an extension of E Street.
Construction of the RV park is expected to finish in summer 2020, Moore said.
When it does, an existing RV park that is on the site of the planned resort hotel will be closed, Moore said
The three-quarter mile bike path and promenade will include a truss pedestrian bridge spanning the marsh inlet at F and G streets, benches along the bay and native trees, shrubs and ornamental landscaping.
The port received a $4.8 million grant from the California Natural Resources Agency to help pay for the bike path and promenade.
"The path opens up access to the bay front, it goes into areas that have never had public access before so the public is going to be able to visit and enjoy the bay front more than they ever have before," Moore said.
Groundbreaking ceremonies for the RV park and the bike path were Sept. 26.
The bigger pieces of the bay front development — construction of a 1,600-room hotel and a 275,000 square feet convention center by RIDA Chula Vista LLC is yet to come.
"We're anticipating that probably about mid-year (2020) that will break ground," Moore said. "We're hoping that the opening will be in mid-2023."