ACQUISITION OF C ENTERPRISES INCREASES REVENUE PICTURE
RF Industries Reports Net Income of $1M During Third Quarter
Sunday, October 6, 2019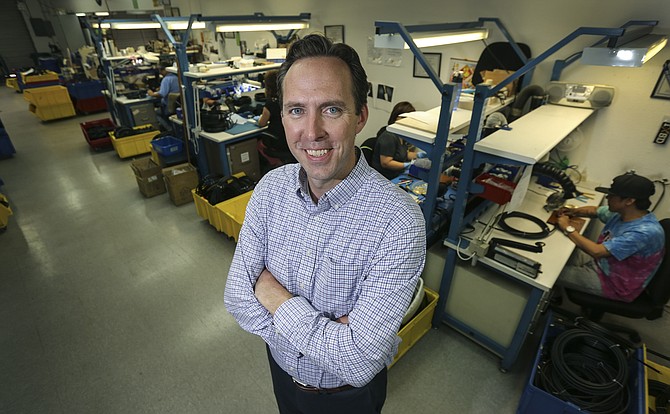 RF Industries reported net income of $1.0 million, or 11 cents per diluted share, on net sales of $15.5 million during its third quarter, which ended on July 31.
That compares with net income of $1.7 million, or 18 cents per diluted share, on net sales of $11.8 million in the same quarter one year ago.
RF Industries (Nasdaq: RFIL) makes interconnect products including cables, connectors and jumpers.
In the recently ended quarter, selling and general expenses were up by 49% compared to the year-ago quarter. The increase was primarily due to the absorption of the additional selling and general expenses of newly acquired C Enterprises and increased compensation, primarily due to the timing of bonus accruals.
"We are pleased to report another strong quarter that includes solid sales growth both sequentially and year-over-year," said Robert Dawson, CEO of RF Industries, in a statement distributed by the company.
"This increase reflects both organic growth and inorganic growth from our recent acquisition of C Enterprises, which showed a healthy increase in its business this quarter. We also continued to generate sales from the wireless carrier ecosystem and drove growth in our distribution business during the quarter. This quarter was a great example of our ability to be profitable at varying revenue levels, even while we strategically invested in our people and our operations.
"Looking ahead, we will continue to execute on our long-term growth plan and expect to achieve year-over-year sales growth in both the fourth quarter and for our fiscal 2019 full year as we work toward our plan of reaching $100 million in sales over the next few years."
RF Industries announced its acquisition of C Enterprises for undisclosed terms in March. C Enterprises, based in Vista, manufactures products for fiber optic and copper cables. As an independent firm, it had annual revenue of $8.7 million.
For the first three quarters of the fiscal year, RF Industries reported net income of $2.7 million on net sales of $39.8 million. In the same three quarters of the 2018 fiscal year, the business reported net income of $5.39 million on net sales of $40.3 million.
Directors Named at Annual Meeting
At RF Industries' annual meeting on Sept. 9, shareholders elected Dawson and Sheryl Cefali to three-year terms on the board of directors.
Dawson was appointed as CEO in July 2017. On his second anniversary he signed a new employment contract raising his base salary from $300,000 to $400,000.
Cefali was originally appointed to the board on June 7. She leads the Los Angeles office of Duff & Phelps, a financial advisory firm.
Shareholders also ratified CohnReznick LLP as the company's independent registered public accounting firm.