SDBJ BEST PLACES TO WORK: MEDIUM EMPLOYER CATEGORY (50 - 249 U.S. EMPLOYEES)
Hughes Marino Values Excellence, Personal Growth, a Sense of Fun
Sunday, October 6, 2019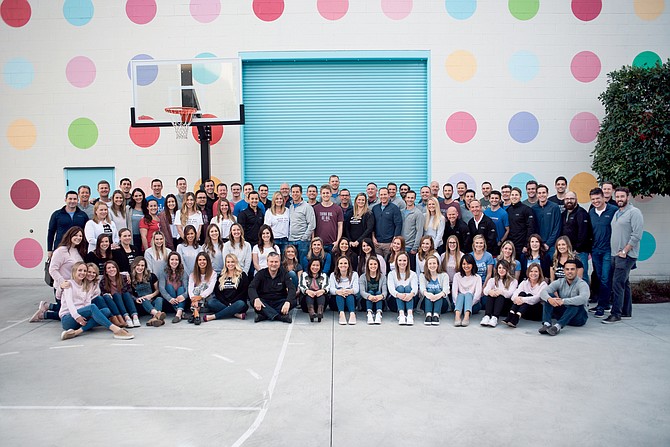 1. Hughes Marino
Top local executive: Jason Hughes, CEO and chairman
Address: 1450 Front St., San Diego 92101
U.S. employees: 120
What they do: Tenant representation and other commercial real estate services
Enjoy the journey. That's one of the core values of Hughes Marino, a commercial real estate brokerage based in downtown San Diego that's led by Jason and Shay Hughes.
Embrace the family spirit is another core value.
Putting those values into practice earned the firm kudos as one of the best places to work in San Diego County.
"From day one, Jason and I have always made the happiness and well-being of our amazing team members a top priority, and our 10 core values have truly been a guiding light in how we do business," said Shay Hughes, COO and president.
The company's other driving principles as expressed in its core values are to "always do the right thing, deliver excellence in everything we do, build lasting relationships based on trust, nurture your personal and professional life, pursue growth and learning, proactively communicate with everyone and be authentic, grateful and humble."
The company specializes in representing tenants in lease negotiations and buyers in sales transactions, never landlords or sellers.
The theory is that in doing that, Hughes Marino avoids conflicts that might arise in brokerages that represent landlords and tenants.
The company also offers a variety of other services, including project and construction management and planning and design.
In addition to its San Diego headquarters, Hughes Marino has offices in Irvine, Long Beach, Los Angeles, Ontario, Temecula, Walnut Creek, San Jose, New York and Seattle and Bellevue, Wash.
"From creating a beautiful and welcoming space that inspired and cultivates creativity to providing top-of-the-line benefits, ample time off to recharge, activities that nurture our team's personal growth and making time for fun, we do everything in our power to ensure that our team can thrive and grow, both professionally and personally," Shay Hughes said.
During monthly team meetings, the people who work at Hughes Marino make a point of recognizing each other's achievements.
Sometimes they don't even talk business, just gather to focus on appreciation and growth.
"Not only do we want each and every one of them to love what they do and feel fulfilled in their roles, but we also want to ensure that our team feels supported as though they work in a home away from home," Shay Hughes said.
Prev Next