SDBJ BEST PLACES TO WORK: MEDIUM EMPLOYER CATEGORY (50 - 249 U.S. EMPLOYEES)
Hughes Marino Values Excellence, Personal Growth, a Sense of Fun
Sunday, October 6, 2019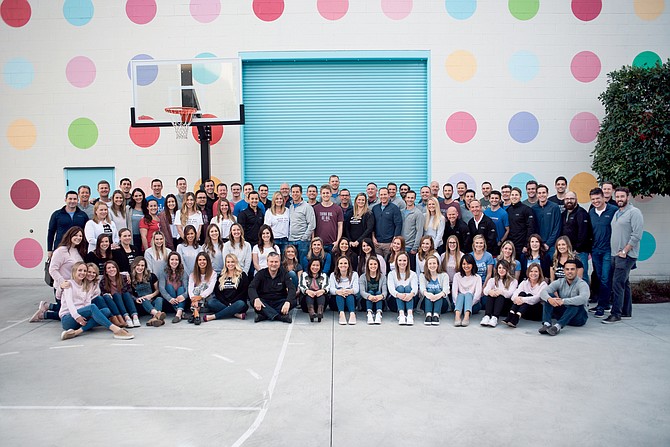 1. Hughes Marino
Top local executive: Jason Hughes, CEO and chairman
Address: 1450 Front St., San Diego 92101
U.S. employees: 120
What they do: Tenant representation and other commercial real estate services
Enjoy the journey. That's one of the core values of Hughes Marino, a commercial real estate brokerage based in downtown San Diego that's led by Jason and Shay Hughes.
Embrace the family spirit is another core value.
Putting those values into practice earned the firm kudos as one of the best places to work in San Diego County.
"From day one, Jason and I have always made the happiness and well-being of our amazing team members a top priority, and our 10 core values have truly been a guiding light in how we do business," said Shay Hughes, COO and president.
The company's other driving principles as expressed in its core values are to "always do the right thing, deliver excellence in everything we do, build lasting relationships based on trust, nurture your personal and professional life, pursue growth and learning, proactively communicate with everyone and be authentic, grateful and humble."
The company specializes in representing tenants in lease negotiations and buyers in sales transactions, never landlords or sellers.
The theory is that in doing that, Hughes Marino avoids conflicts that might arise in brokerages that represent landlords and tenants.
The company also offers a variety of other services, including project and construction management and planning and design.
In addition to its San Diego headquarters, Hughes Marino has offices in Irvine, Long Beach, Los Angeles, Ontario, Temecula, Walnut Creek, San Jose, New York and Seattle and Bellevue, Wash.
"From creating a beautiful and welcoming space that inspired and cultivates creativity to providing top-of-the-line benefits, ample time off to recharge, activities that nurture our team's personal growth and making time for fun, we do everything in our power to ensure that our team can thrive and grow, both professionally and personally," Shay Hughes said.
During monthly team meetings, the people who work at Hughes Marino make a point of recognizing each other's achievements.
Sometimes they don't even talk business, just gather to focus on appreciation and growth.
"Not only do we want each and every one of them to love what they do and feel fulfilled in their roles, but we also want to ensure that our team feels supported as though they work in a home away from home," Shay Hughes said.
For professional development, the company brings in professional and motivational speakers such as Jesse Itzler, the entrepreneur, former rapper and an owner of the Atlanta Hawks of the National Basketball Association.
Fun is an important part of the culture at Hughes Marino.
Workers get a half day off on the last Friday of every month to get a jumpstart on the weekend and there are regular "theme days."
Talk about casual Friday, Hughes Marino has comfortable pajama days and days when people wear baseball gear to work.
The company also gives out tickets to San Diego Padres games and rents out fancy spots for worker appreciation parties.
On a more serious note, the company has an annual Hughes Marino award that comes with a cash prize to honor the most inspirational worker in each of its offices.
2. The Miller Hull Partnership
Top local executive: Caroline Kreiser, Principal
Address: 4980 N. Harbor Drive, Suite 100, San Diego 92106
U.S. employees: 102
What they do: Architecture and planning
Founded in 1977 by partners with a defining background in the Peace Corps, The Miller Hull Partnership is an international, award-winning architecture and planning firm. Its San Diego studio opened in 2011. With a legacy of environmentally responsible buildings, the firm's culture is built on inspiration that comes from connecting with nature and each other.
Weekly Design Panels are a paid hour for staff to have a critical discussion over food and drink. Outside of the office, families are welcome at nature-oriented retreats. Paddle boards and surfboards available for employees to use at the marina near the Point Loma architecture studio.
In 2015, Miller Hull became a JUST organization and continually evaluates its practice to create an environment of transparency to improve the firm and the industry.
The firm contributions financially to nonprofits and donates over 1% of its billable hours to pro-bono work, including Bayside Community Center and Living Coast Discovery Center.
3. Nth Generation Computing, Inc.
Top local executive: Jan Baldwin, CEO
Address: 17055 Camino San Bernardo, San Diego 92127
U.S. employees: 69
What they do: Information technology solutions provider
The atmosphere at Nth Generation Computing has created what the business calls incredible employee loyalty and longevity. Jan and Rich Baldwin own the business and work to keep the atmosphere fun. Seasonal celebrations as well as yoga classes are interwoven with work life.
The Nth Generation benefits package includes fully paid health insurance for employees and profit sharing. The Baldwins have empowered their managers to creatively reward employees and invest in their future success with specialized training and skills development.
Employees at Nth Generation Computing go places. Each receives free theater tickets for themselves and a guest. There is an annual overnight stay at a winery and spa. The business holds its annual company symposium at the Disney Grand Californian Resort for three nights, providing all meals and passes to Disneyland. The owners treated one of their first retiring employees with a first-class trip to Australia and New Zealand.
4. Evotek
Top local executive: Cesar Enciso, CEO and Founder
Address: 6150 Lusk Blvd, Suite B204,
San Diego 92121
U.S. employees: 71
What they do: Information technology value added reseller
EVOTEK says its formula for success is simple: "We put our people first, and because we have happy employees, we have happy clients."
What makes EVOTEK different is an innovative value-added reseller business model that gives employee-partners an opportunity to share in the annual profits of the company. At the end of the fiscal year, the company reinvests a portion of the yearly profit back into qualified employees.
Earning partnership at EVOTEK is not only about financial participation, it is also about being included in decisions that leadership makes.
Recognizing that all work and no play makes for a tedious career. EVOTEK offers frequent employee and customer events, from monthly happy hour networking events at local breweries and hosting large events at NFL, MLB, and NBA games, to sponsoring executive roundtables to discuss the direction of the industry and discover where new opportunities will emerge for clients and employees.
5. Cadence
Top local executive: Wendy Burk, CEO
Address: 7701 Herschel Ave., La Jolla 92037
U.S. employees: 58
What they do: Travel management
Cadence manages business travel, designs and operates meetings and incentive trips, and creates curated personal travel experiences. The firm has grown from a three-person office in La Jolla to a premiere travel management company by caring first about its employees, clients and partners. Every employee is treated with equal respect and CEO Wendy Burk has an open-door policy. As a result, clients get better care and service than they do with competitors.
Staff receives familiarization trip dollars as well as a week paid for travel to broaden their knowledge. At the office, employees enjoy catered meals and fitness perks: weekly yoga classes, funded participation in community fitness events and midday group walking breaks. Yoga chairs, standing desks and ergonomically friendly chairs are available, as are healthy snacks.
Annual perks include a $100 donation to the charity of the employee's choice and a staff retreat at a five-star property.