DINING: SLICE OF THE PET SPENDING PIE CAN PAY OFF
Eateries Welcome Fido For Fun and Profit
Sunday, October 6, 2019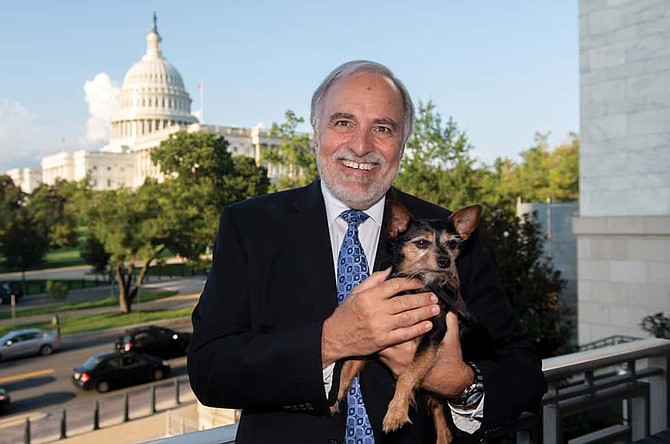 According to the American Pet Products Association, Americans are spending more on pets than ever before.
During this year's Global Pet Expo, an annual pet product trade show, Bob Vetere, president and CEO of APPA, announced the annual pet industry spending figures in the country were $72.56 billion in 2018. Spending on pet food continues to make up the majority of dollars spent in the industry, he said, coming in at $30.32 billion the same year.
Piggy backing off these staggering numbers, it appears the local food industry has taken notice. As a result, more and more restaurants around town are launching dog menus — or separate menus in addition to their regular menu — that offer items especially made for four-legged friends.
Yappy Hour
The Compass, a restaurant founded in 2011 in Carlsbad, launched its dog menu, dubbed the "Yappy Hour," in August.
"We have always been an animal-friendly environment on our patio and we love all of our furry friends," said Andy Davis, owner and operator. "We just wanted to create a more enjoyable and relaxing environment for all guests, two and four legged."
The dog menu at The Compass includes scrambled eggs; chicken breast; beef patties; grilled salmon and basmati rice; blue buffalo kibble and bone broth gravy with choice of egg or rice; and a scoop of peanut butter with bacon bits. Prices range from $4 to $6, and all prepared by The Compass Executive Chef Brad Thomas. Davis adds that the location sources all of its ingredients from local farmers markets as well as other local purveyors.
Pets Are the New People
It's "something we had been talking about doing for a while," said Davis, who said the restaurant is selling more "bark bowls" than he initially imagined. "I believe that the trend of accepting animals as more than just pets has led to more and more animals always going through the day with their owners and be more a part of day-to-day activities, rather than just waiting at home, has led to this new trend."
Kristine Ehrich, lecturer at San Diego State University, agrees.
"It has to do with the fact that the U.S. population, we are increasing the number of pets in our lives, especially dogs," she said about the growing pet industry as it pertains to the increase in dog menus around town. "We see an increase in the trend of dog ownership, and more families treating their pets more like their children, and, as a result, taking the animals places. It seems as if restaurants are accommodating… We are seeing different businesses trying to cater to guests based on what it is that people are finding important in their lives."
The American Pet Products Association's 2019-2020 National Pet Owners Survey shows that 67% of U.S. households own at least one pet, an estimated 85 million households and a growth from 56% to 68% in the last 30 years. Most of the progression can be attested to millennials and Gen Z, as the two represent the largest segments of the pet owning population. While baby boomers account for 32% of pets owned, households headed by younger cohorts account for 62% of pet ownership, the data state.
Lucy Postins, founder and chief integrity officer of The Honest Kitchen, a San Diego-based company that produces human-grade dog and cat food, said the dog menu trend has taken off in San Diego, specifically, because it is such a pet-friendly city. And, she is right about that. According to WalletHub, a Washington, D.C.-based personal finance website, San Diego ranked as the third most pet-friendly city in the United States on its "Most Pet Friendly Cities" list, released in August.
"San Diego is such a pet-friendly and pet-centric city," said Postins, adding that she works closely with Cesarina, an Italian restaurant located in Point Loma, on its dog food items. "We love that restaurants not only allow pets but encourage four-legged guests with special menus and offerings."
Hunting for Places
Other dog menus around town include Mira Mesa's Best Pizza & Brew "Doggie Menu," which features homemade sliced meatballs; grilled and sliced chicken breast topped with sausage bits; seared and sliced angus beef patty topped with bacon bits; and two slices of honey cured bacon. The prices range from $2.50 for the bacon slices up to $7 for the Angus beef patty plate, the latter also known as the "Best Bark Bowl."
Lazy Dog Restaurants LLC, headquartered in Huntington Beach, with a location in Mission Valley, also has a dog menu which includes a grilled hamburger patty with brown rice item for $4.95, grilled chicken breast and brown rice for the same price, and plain brown rice for $2.50.
Ehrich does warn, restaurants have to be careful not to alienate any of their clientele as a result, including those that may be afraid of dogs and even those that are allergic to certain animals. To do so, she suggests food places be transparent about their animal-related policies on their materials.
"'This restaurant has menus for dogs' or 'this restaurant is dog-friendly'," she said about some of the statements restaurant owners can use for clarity. "Otherwise, some of their guests may stop coming. And, it's ok if those guests do stop coming, but if they continue to come and aren't aware, that is when there could be a potential problem."