SDBJ BEST PLACES TO WORK: SMALL EMPLOYER CATEGORY (15 - 49 U.S. EMPLOYEES)
Cultura Develops a Unique Sense of Place In its Own Workspace
Sunday, October 6, 2019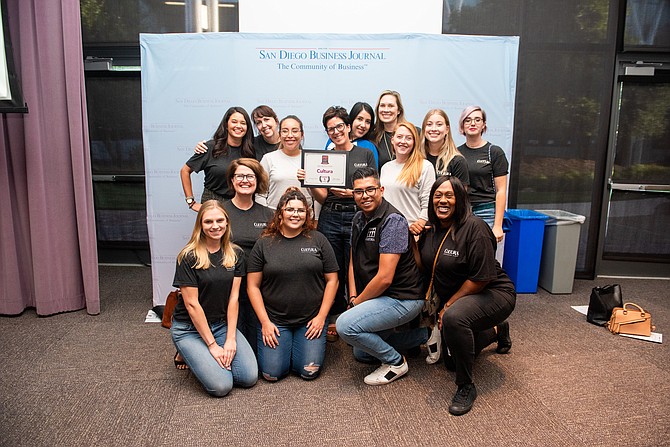 1. Cultura
Top local executive: Anne Benge, CEO
Address: 5010 Shoreham Place, Suite 110, San Diego 92122
U.S. employees: 27
What they do: Office furniture dealer and workplace designer and consultant
Cultura is not just a furniture dealership. According to the company, it is a partner in creating places where people love to work, live, learn and play.
Briana Wilson, director of brand and culture at Cultura, said this mission stems from Cultura's employees' appreciation for their own workplace.
"We love where we work and we love creating places where others get to love where they work (too)," she said.
This is because Cultura is intentional in practicing what it preaches. At the privately held company, employees have the opportunity to turn their work trips into vacations, said Wilson, by extending their journeys to see family and friends, check out some tourist spots and explore the area.
"We believe that just because you're not in the office, (it) doesn't mean you stop learning," said Wilson, adding that employees at Cultura have unlimited vacation days. "After hearing from friends how they've traveled to lots of cool cities for work and have never actually played tourist in them, experienced the food, etc., we knew that's not the kind of thing we wanted to replicate … . We want everyone when they go off for work or vacation, to come back rested, inspired and ready to add value to Cultura in new, fresh ways."
This is just one of the many attributes that put Cultura at the top spot in the small business category of the Best Places to Work 2019 list, released by the San Diego Business Journal last month.
Cultura — which was founded in 2009 and has 34 local employees — also offers back-up child and elder care, in case an employee's regular caregiver is suddenly unavailable, as well as a dog-friendly work environment. Other perks are a kitchen fully stocked with snacks, a wine fridge with endless options and beer kegs that are always cold, according to the company.
As a result, Cultura has an 84% retention rate and an 89% employee engagement rate, according to the company.
Since inception, Cultura, which means "culture" in both Italian and Spanish, has partnered with over 900 companies nationally and has helped build over 45,000 spaces that support their clients' businesses, people and ultimately culture, as per the company. Some of its local clients include Pura Vida, La Jolla Pharmaceutical Co., Palomar College, University of California, San Diego, San Diego International Airport and Biocom, to list a few.
2. La Jolla Logic
Top local executive: Stacey Anfuso, CEO
Address: 2850 Womble Road, Suite 100-602, San Diego CA 92106
U.S. employees: 28
What they do: Computer engineering, concentrating on information system security and advanced technology
La Jolla Logic, a 28-person company based in Old Town, takes a bottoms up approach to leadership. In its view, the role of the corporate team is to support the engineering staff.
The business is a cybersecurity and advanced technology specialist serving the U.S. Department of Defense as well as academic institutions and the commercial sector.
La Jolla Logic offers flexible hours and telecommuting, and pays for 100% of an employee's health insurance premium. Compensation and benefits are designed to attract and retain high caliber employees with specialized skills and exceptional capabilities. Apparently, these approaches work: there was no turnover in the last fiscal year, while industrywide turnover was 36.2%. The company offers spot bonuses for jobs well done. To beat stress, La Jolla Logic sponsors employee and leadership engagement activities such as team lunches, happy hours and other social events in a fun and relaxing environment.
3. HoyleCohen
Top local executive: Mark Delfino, CEO and Partner
Address: 9350 Waxie Way, Suite 500,
San Diego 92123
U.S. employees: 37
What they do: Wealth management
HoyleCohen describes its office as a close knit community. Many people there have worked together for decades. They celebrate each other's professional and personal successes.
The wealth management firm gives out "Core Bucks," for achievements. They can be collected and redeemed for prizes. Employees may also participate in an employee stock ownership plan. In addition, the employer makes an annual discretionary profit sharing contribution of up to 3-5% of total annual compensation after one year of employment.
There are other employee benefits. For the mind and body, HoyleCohen sponsors a book club and offers access to a fitness room for personal training and yoga. One unique benefit for all team members is a daily, made to order organic protein smoothie.
The management at HoyleCohen believes volunteering time and resources makes us all better people, better leaders — and better in business. Philanthropic efforts include the annual Walk for Wishes.
4. SiO Digital
Top local executive: Giovanni Letellier, CEO
Address: 3950 Sorrento Valley Blvd., Suite 500, San Diego 92121
U.S. employees: 18
What they do: Advertising, public relations and marketing
SiO Digital Marketing is a startup in San Diego creating digital marketing strategies that put businesses on the e-map and grow visibility, reputation and revenue.
Founded in 2014, the business values input from its 18 team members. Employees are invited to submit ideas to the company Idea Box each week. The group reads them together to determine their viability. Some ideas that have been permanently adopted by the business are a weekly ping-pong tournament, Friday catered lunches, the eClincher Social Media Management Tool and its Video Search Engine Optimization Services. The business recognizes that trial and error — and sometimes small setbacks — are necessary for growth.
In addition to Friday lunches (for social engagement and getting to know each other) the business offers many benefits, including free gym memberships as well as opportunities to get together outside of work. A group from the business recently enjoyed a music festival together.
5. Boutique Recruiting
Top local executive: Innesa Burrola, President
Address: 591 Camino De La Reina, Suite 1020, San Diego, 92108
U.S. employees: 16
What they do: Placement for finance, accounting and administrative professionals
Boutique Recruiting President Innesa Burrola sees personalized interactions with her clients as a top priority. In fact, the company says it is powered by personal relationships. But the slogan applies not just to client relationships. It is at the heart of the company's relationships with its employees.
Benefits of a job with Boutique Recruiting include an extra two weeks off at the end of the year, inclusive decision making, outstanding pay, a gorgeous state-of-the-art office with gym, the ability to work remotely, and regularly provided healthy lunches and in-house massages. Birthdays and work anniversaries are celebrated with a lunch or dinner. Employees get to experience a fun environment at the company, which enjoys events such as bowling.
Boutique Recruiting offers profit sharing and a 3 percent match on retirement plans. Employees naturally feel good about what they do because they have a supportive, well-regarded company with strong leadership standing behind them.