SDBJ BEST PLACES TO WORK: SMALL EMPLOYER CATEGORY (15 - 49 U.S. EMPLOYEES)
Cultura Develops a Unique Sense of Place In its Own Workspace
Sunday, October 6, 2019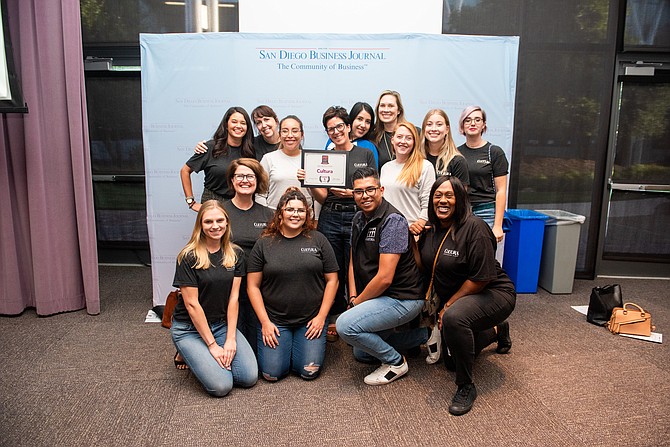 1. Cultura
Top local executive: Anne Benge, CEO
Address: 5010 Shoreham Place, Suite 110, San Diego 92122
U.S. employees: 27
What they do: Office furniture dealer and workplace designer and consultant
Cultura is not just a furniture dealership. According to the company, it is a partner in creating places where people love to work, live, learn and play.
Briana Wilson, director of brand and culture at Cultura, said this mission stems from Cultura's employees' appreciation for their own workplace.
"We love where we work and we love creating places where others get to love where they work (too)," she said.
This is because Cultura is intentional in practicing what it preaches. At the privately held company, employees have the opportunity to turn their work trips into vacations, said Wilson, by extending their journeys to see family and friends, check out some tourist spots and explore the area.
"We believe that just because you're not in the office, (it) doesn't mean you stop learning," said Wilson, adding that employees at Cultura have unlimited vacation days. "After hearing from friends how they've traveled to lots of cool cities for work and have never actually played tourist in them, experienced the food, etc., we knew that's not the kind of thing we wanted to replicate … . We want everyone when they go off for work or vacation, to come back rested, inspired and ready to add value to Cultura in new, fresh ways."
This is just one of the many attributes that put Cultura at the top spot in the small business category of the Best Places to Work 2019 list, released by the San Diego Business Journal last month.
Cultura — which was founded in 2009 and has 34 local employees — also offers back-up child and elder care, in case an employee's regular caregiver is suddenly unavailable, as well as a dog-friendly work environment. Other perks are a kitchen fully stocked with snacks, a wine fridge with endless options and beer kegs that are always cold, according to the company.
As a result, Cultura has an 84% retention rate and an 89% employee engagement rate, according to the company.
Since inception, Cultura, which means "culture" in both Italian and Spanish, has partnered with over 900 companies nationally and has helped build over 45,000 spaces that support their clients' businesses, people and ultimately culture, as per the company. Some of its local clients include Pura Vida, La Jolla Pharmaceutical Co., Palomar College, University of California, San Diego, San Diego International Airport and Biocom, to list a few.
Prev Next