SDBJ BEST PLACES TO WORK: LARGE EMPLOYER CATEGORY (250 - 1,999 U.S. EMPLOYEES)
C&S Cos. Brings Staff Together for Personal Development, Softball
Sunday, October 6, 2019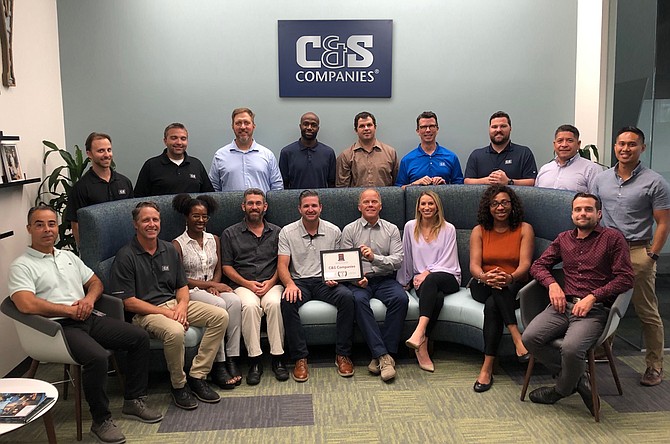 1. C&S Companies
Top local executive: Michael Hotaling, Senior Vice President
Address: 2355 Northside Drive, Suite 350, San Diego 92108
U.S. employees: Not Stated
What they do: Engineering, architectural and construction services
For a large, national engineering firm, C&S Cos. still finds ways to keep employees connected. The New York-based full-service architecture and engineering firm has a total of 470 employees, with its local offices serving many of its aviation clients.
For a large, national engineering firm, C&S Cos. still finds ways to keep employees connected. The New York-based full-service architecture and engineering firm has a total of 470 employees, with its local offices serving many of its aviation clients.
Brian Sault, a senior project engineer for C&S, has worked for the company for 12 years. He said C&S puts a lot of time and energy into not only making sure it's a fun place to work, but that it's also a place where employees have room
to grow.
"We want to invest in our team and train them. Hopefully they have a great work experience and a place to be," he said. "We realize that making our employees happy equates to making our customers happy."
The company offers employees several opportunities for personal development. For example, C&S' entire aviation group met in one location for team-building and leadership training.
The company also finds ways to celebrate its successes. Members of the San Diego office have a bell that they ring every time they win a new contract or award. Outside of the office, employees also compete together on the company's softball team.
"When you think of high-performance teams, teams that are satisfied and working together, you have fun outside of the office," Sault said. "We're constantly trying to find ways to keep it fresh and new."

In the past few years, Sault said, C&S has worked to build a flatter organization, giving staff more opportunities to present their ideas and make changes in the company if they see something that can be done differently. Sault said the change has empowered the company's younger employees to take on a larger role in projects.
C&S also rewards its employees with some unique benefits. As an employee-owned company, staff has the benefit of owning company stock. Employees also have access to wellness programs and unlimited sick days.
Most of all, Sault said he enjoyed working for a company that celebrates its successes and respects employees' personal commitments.
"We're mindful of the workplace environment. We try to have a work-life balance," he said. "In consulting, it's understanding the peaks and valleys of workload."
2. Kidder Mathews
Top local executive: Mark Read, Regional President, Brokerage
Address: 12230 El Camino Real, Suite 400,
San Diego 92130
U.S. employees: 365
What they do: Commercial real estate
The leadership team at Kidder Mathews fosters an environment that supports and rewards excellence and integrity. The goal is to provide a culture that exists to support meaningful work, where people get great results and they're treated well, matching employees' skills and passions with the organization's needs.
Kidder Mathews offers incentive or profit sharing bonuses. Brokers get to keep 90% of their commissions.
Employee benefits include medical, dental, vision, mental health and alternative care, plus life insurance and long-term disability. Employees may contribute to standard retirement plans and the employer may match the contribution. Subsidized health club memberships are available, as is paid time-off for volunteer work.
Significantly, Kidder Mathews employees have the opportunity to become shareholders in the firm. The company's approach has inspired hundreds of its professionals to become owners. This ensures Kidder Mathews — which recently celebrated its 50th anniversary — will remain independently owned for another 50 years.
3. Athens Administrators
Top local executive: Sabrina Darsey, Division Claims Manager
Address: 404 Camino Del Rio S., Suite 550, San Diego 92108
U.S. employees: 348
What they do: Service and administer workers' compensation and liability claims
Athens is a third-party administrator for workers' compensation and liability claims. The business is committed to having a "Best Places to Work" culture and values. Its goal is for employees to be engaged and grow — professionally and personally. Transparency and work-life balance are key principles for the business.
An extensive wellness program focuses on all aspects of wellness, including mental, physical and financial. At 10 a.m. Friday, the company offers paid time for a 25 minute group walk. It's fun, breaks up the day, relieves stress and gets people together. Other social events include Wii tournaments, picnics and holiday celebrations. The corporate-wide employee of the quarter is awarded $1,000, and the top employee of the year wins $5,000.
Under an alternative work schedule, employees work seven and a half hours per day. Those who work eight hours per day have a day off every three weeks.
4. Seismic Software
Top local executive: Doug Winter, CEO and
Co-founder
Address: 12770 El Camino Real, Suite 300, San Diego 92130
U.S. employees: 474
What they do: Software company whose platform generates marketing collateral for sales teams.
Software from Seismic makes sales and marketing campaigns all the more compelling. Despite the fact that the company has quickly grown from 120 to over 500 employees, it retains an employee-first culture. Seismic has been on the Best Places to Work list for four consecutive years.
A major tenet of Seismic's culture is that every employee is rowing in the same direction, and all contributions to the company are immensely valuable. Seismic trusts employees and sets them up for success. It has a flexible sick time policy, allowing employees to take off as much time as they need to get well. There is also flexibility with the ability to work from home. The office kitchen is always stocked with healthy snacks and drinks, and multiple offices include game rooms with Ping-Pong and cornhole.
Employees may also take time off of work to participate in volunteer or community activities.
5. Sheppard Mullin
Top local executive: Guy Halgren, Chairman of the Executive Committeer
Address: 12275 El Camino Real, Suite 200, San Diego 92130
U.S. employees: 1,591
What they do: Law Firm
For more than 10 years, Sheppard Mullin's San Diego office has been rated among the Best Places to Work. Its focus is on both clients and employees. "We want to ensure that the companies we represent get the very best work from us and that every member of the Sheppard Mullin family is supported, happy and challenged," the business said in a statement.
By maintaining an open, transparent and accessible environment, the business states it has created a high level of esprit de corps. "We strive to provide a relaxed and warm atmosphere, and to promote an active engagement through activities such as celebration of extraordinary effort, local initiatives and service work." Staff members team up to meet critical deadlines.
Sheppard Mullin gets high marks for diversity. It was rated 100% by the Human Rights Campaign's 2019 Corporate Equality Index, and received the Mansfield Certified Plus designation from Diversity Lab.