InvestCloud Opens Carlsbad Office
Thursday, October 3, 2019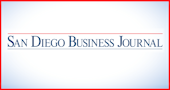 Los Angeles-based InvestCloud, a financial digital solutions platform, has opened a new office in Carlsbad to support its expansion. According to a press release, the Carlsbad office, the company's eighth global location and third in California, will "provide its full suite of services to InvestCloud clients, as well as focus on driving further development on its trading, accounting and middle-office workflow solutions.
The Carlsbad office general manager will be Scott Gruchot, who recently worked as senior vice president of Client and Professional Services at Fiserv and spent more than two decades in Fintech as a senior tech executive and consultant.
"InvestCloud's approach to digital is truly unique – offering flexible solutions that fit the digital financial transformation needs of a company or a client, both custom designed and off-the-shelf," said Gruchot via a statement. "This approach is driving mass industry adoption with more than 700 clients in only nine years already on the platform."
The Carlsbad office currently supports 175 clients who have chosen to outsource some or all of their back office processes, according to the press release. These clients range from small RIA's to institutional clients with $20 billion in assets under management, it states. InvestCloud selected Carlsbad because of its close proximity to customers and access to a technology-driven workforce, it also read.
InvestCloud supports over $2 trillion+ of assets across 700 diverse clients, according to the release. In addition to the Carlsbad office, the company has operations in New York, San Francisco, Tampa and Toronto. It also has a European headquarter in London and offices in Bengaluru, India.
Travel & hospitality reporter Mariel Concepcion can be reached at mconcepcion@sdbj.com or 858-634-4625.