TECH: SHARING DATA IS A CHALLENGE; TRAFFIC SOLUTIONS BEING SOUGHT
Cities Getting Smarter About Making Use of Technology
Thursday, October 3, 2019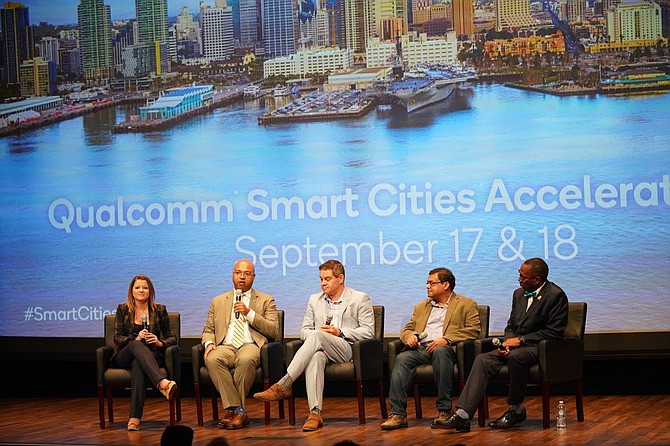 In the last two years, the city of San Diego has installed 4,200 smart streetlights downtown, equipped with cameras, sensors and microphones. The city hopes to be able to use this vast network of sensors to better monitor foot and vehicle traffic, and direct drivers to empty parking spaces, said Erik Caldwell, deputy chief operating officer for the city of San Diego.
At the other end of the county, Carlsbad hired its first chief innovation officer last November. David Graham will head up all of Carlsbad's smart city efforts, including tools to monitor traffic and water use.
Both Caldwell and Graham see major uses in the technology with traffic management and city planning. But they also foresee big challenges in how that data is stored and shared, they said at a panel during Qualcomm's Smart Cities Accelerate conference this month.
Caldwell said the city of San Diego has been gathering information on where people travel through the city — whether by car, bike, foot or electric scooter — and mapping it over city infrastructure. He said it's helpful in planning where to make changes, such as adding bike lanes, changing the speed of travel, or even removing roads.
"Normally, you build infrastructure and hope people use it in the way you intend them to use it," Caldwell said. "By pulling all of that information together in our downtown area, we actually have near-real-time information on how people are actually moving through the urban environment and using our infrastructure."
Mobility Plan
In December of last year, the city launched a downtown mobility plan to build a network of protected bike lanes throughout downtown. The lanes will also be useful with the uptick in electric scooter activity, as Bird, Lime and other services have landed in San Diego.
The city has also turned to the public to find innovative ways to put the data to use. It recently partnered with US Ignite to host a hackathon that resulted in three use cases, including a project using machine learning to identify potholes and other road hazards.
"We're just at the very nascent beginnings of rethinking the way we all move from point A to point B in an urban environment," Caldwell said. "We need to do it right. … We're thinking of not just what do we need over the next five years, but what do we need in the next 50 years."
Smart Meters
In Carlsbad, Graham said the city replaced its old water meters with new, automated ones that share data wirelessly. If the city notices a spike in water use at one house, they call that customer to notify them. In six months, Graham said the city saved $200,000 and 16 million gallons of water using the technology.
"If you just take the step of creating a more connected piece of technology with something, but you forget about that human connection, then you're going to miss the real value in what that behavioral change can affect," he said.
New Signal System
Carlsbad has also built new signal systems along its main traffic corridors to adapt to travel patterns in real time. The city has installed cameras at the majority of its traffic lights, an upgrade from its previous decade-old system of sensors that predicted traffic based on past patterns. Even that system was more advanced than most cities' roadways.
"Most of the cities you live in, people still have to drive down to a traffic signal and push a button to reset a timer," Graham said. "We're not as advanced as we'd like to be. Most of the time, it's because we don't have the underpinnings of communications infrastructure."
Ten years ago, when Carlsbad built its system of street light sensors, the city opted to make a wireless communications system since it didn't have fiber in the ground to connect the individual signals. Since then, the city has rebuilt that network.
"Fast forward 10 years today, do you think that (network) can handle the speeds of what high-definition cameras can do?" Graham said. "We had to rebuild the entire thing because cross-departmentally, there wasn't this sort of alignment. There wasn't a long-term strategy outside of this purpose-built traffic system on what a fundamental, low-latency communications network can do."
Data Challenges
That siloed data between departments is one of the main obstacles Caldwell and Graham will combat in their new roles.
"Every single city you talk to can give you a horror story about one department asking another department for data and being told that you have to file a public records request," Caldwell said.
One way around that is to actively pull de-identified data into a central repository where everyone can access it, and make it a system that updates automatically.
Beyond that, Graham hoped to see more sharing of data between cities, such as with GIS data that includes details on zoning, community planning and other location-centered information.
"For most cities, an open data policy is more about getting your house in order than people using that data," Graham said. "Where it does translate into having more impact is when you have multiple cities saying here's how we're going to push this out using a certain API. Then you can aggregate it."