LEGAL: COS. WILL NEED TO EXAMINE HIRING PRACTICES
New Law Brings Big Challenges for Startups
Wednesday, October 2, 2019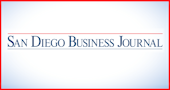 In the early 1900s, the word "gig" appeared in jazz clubs, referring to a live music performance.
"It was designed for short-term expertise," said Mike Boro, a partner with PricewaterhouseCoopers. "Now, it's no longer that way."
A plethora of professions now refer to their work as gigs. A software developer might choose to pursue projects on the side. Apps such as Uber, Rover and Fiverr are recruiting armies of drivers, dog-walkers and freelancers.
Many of these workers will need to go full-time with their gigs under Assembly Bill 5, a bill proposed by Assemblywoman Llorena Gonzalez of San Diego and signed into law on Sept. 18 by California Governor Gavin Newsom.
Not Prepared for Law
Assembly Bill 5 dramatically redefines what types of jobs may be counted as contract work. Most San Diego startups are unprepared for the changes, local law firms said.
"I think it's difficult for many startups to wrap their head around the legislation," said Tara Pelan, co-founder of Carlsbad-based Coeptus Law Inc. "Startups, I think, are particularly affected because they're lacking substantial access to money and flexibility. …When you're hiring independent contractors versus employees, you gain a cost saving and you have flexibility. This would eliminate those two aspects."
The new law essentially codifies a recent California Supreme Court decision, Dynamex Operations v. Superior Court, which says workers must meet three qualifications to be an independent contractor:
They must be free of their employer's control.
They must do work "outside of the usual course" of the company's business.
They must be in a trade occupation or business similar to the work being
performed.
Otherwise, they must be reclassified as employees, with benefits.
San Francisco-based grocery delivery startup Instacart has already been hit by a lawsuit from San Diego City Attorney Mara Elliott, saying workers should be paid retroactively for minimum wage, overtime pay and expenses after being misclassified.
Uber Makes Its Own Case
Other startups, such as Uber, are digging in their heels. Uber's attorneys have argued that the company's drivers are not core to its business; rather, the company is a "technology platform for several types of digital marketplaces," Uber's Chief Legal Officer Tony West stated in prepared remarks.
Local startups, such as Seismic Software and Mercato also did not anticipate changes to their workforce. Seismic stated it seldom uses independent contractors, and when it does, the company works with a third party. Though Mercato's platform offers deliveries from independent grocers, the company doesn't work with drivers directly. CEO Bobby Brannigan said they work with other companies, such as Doordash or Postmates, to fulfill deliveries.
Startups First Workers
Of the startups she has worked with, Pelan, of Coeptus Law, said few were moving to hire contractors on a full-time basis.
"I think there's still a resistance because of the disbelief and lack of understanding around what this law really means," she said. "It's not just the startups. The people they're working with don't necessarily want to be classified as employees. When both parties are in agreement that that's what they want, it's hard to change that structure just because there's new or impending legislation."
The effects aren't just limited to gig-centric startups, with an "Uber for X" model. It can also affect how startups hire their first workers. Paying a co-founder or employee No. 1 in equity alone just won't cut it under the new law.

"The law doesn't recognize those nuances," said Tyler Paetkau, a partner with Procopio. "Startups — they're worried about paying rent, not hiring employees. They are trying to economize where they can until they can get Series A funding, an IPO, or become a more mature company."
There are a handful of exemptions under the new law. For example, doctors, lawyers, engineers and a few other professions have been carved out from AB5. But that doesn't mean companies will get off scot-free: they still must meet labor tests that existed prior to the new law.
"It's very difficult now to have independent contractors, unless you have an electrician, plumber, one of the quintessential independent contractor types of work," he said.
Outside Firms
One workaround for companies is to hire workers from a payrolling firm on a part-time basis. They can also choose to work with an independent contract compliance firm to ensure that their workers meet the new regulations.
The law would generally come into play when an employee files a lawsuit claiming they were misclassified, say, if they wanted overtime pay. But the state might also find out about misclassification if an independent contractor files a claim for unemployment, or seeks workers' compensation after being injured on the job, said Tania Fiero, vice president of human resources for San Diego-based Innovative Employee Solutions (IES).
It's important for companies to know that worker misclassification is generally not covered by an employers' liability insurance. So, if a company is found in court to have misclassified an employee, "It can be an expense that the company can't recover from," Fiero said.
At the end of the day, it's difficult to say what the new law will look like in the long term. Fiero advised that startups work with trade associations in their respective industries.
'Fine Tuning' a Law
"There's a lot of lobbying, a lot of activity going on behind the scenes," she said. "Llorena Gonzalez said it would take about four years for lawmakers and businesses to fine tune this. So we could be talking about this for a while."
PwC's Boro said he's watching to see how companies handle changes in policy across state lines. Some stats are following California's lead in enacting more worker protections, while other states are redefining contractors to include more types of work.
"It's not an easy issue," he said. "It'll be interesting to see what happens."
Correction: This article has been changed to reflect the correct name for Innovative Employee Solutions.