FINANCE: MARKET'S LOW ADVERTISING COSTS, BRANCH DENSITY ARE PLUSES
Bank Finds Ideal Location for Innovation Lab: San Diego
Wednesday, October 2, 2019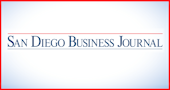 At first glance, San Diego would appear to be an unlikely site to serve as a test market for new product and service concepts in both commercial and consumer banking.
The region is better known for its beaches than its banking.
But Union Bank, which has more than 55 branches throughout the county, thinks the region is the perfect locale to serve as its innovation lab.
For the past six months, the San Francisco-based bank has utilized its San Diego branches to field test new concepts under its Model Bank Pilot Program. The bank officially launched the program after launching Express Banking, one of its first tests in San Diego, two years earlier.
So far, Union Bank has field tested about 15 ideas, with an additional 10 currently undergoing evaluation, said Brian Milton, the local executive who also heads up the effort.
Quick Feedback
"The goal is to accelerate the feedback loop between our clients and the bank to weed out those ideas that work and those that don't," said Milton.
He notes that the program helps keep the bank competitive in a highly competitive market for banking on the West Coast.
One recent pilot that has proved successful features an advanced generation of ATMs, or "Express Banking Kiosks" as the bank has branded them.
The kiosks allow the bank's mix of business and consumer customers to deposit large amounts of cash or pull money out in the exact denominations they need. That's handy when you're in retailing, or other businesses that deal in cash.
Since the testing began locally, the kiosks have since been installed in branches in Los Angeles and San Francisco.
"They are much more advanced than a common ATM," said Milton. "Indeed, they can do 80 percent of the tasks that tellers do, which is great for customers who need to visit a branch but don't need a lot of handholding."
Test Bed San Diego
For decades, San Diego has been a test market for all sorts of businesses. McDonald's periodically tests food products here. Earlier this year, Uber said it would test drone delivery of food in San Diego. An executive from FPA Multifamily LLC,
a San Francisco real estate firm, told the Business Journal in April that it was testing a tiny apartment concept in downtown San Diego to see if it wanted to roll it out to other cities.
At Union Bank, products and services are usually tried out in local branches for six months before they are rolled out to the rest of the bank's branches.
Another example of a pilot that has passed muster is "instant issuance" of replacement debit cards for customers who have lost or stolen original cards.
The process takes about a minute and half right in the branch, said Milton.
With the new card in hand, an employee at the branch helps the customer to test the card to ensure it works properly.
This pilot program is underway at six branches in San Diego and six in Orange County, with an additional 10 sites in the works system-wide.
"Our customers tell us that when they lose their debit card getting their hands on a new one is really important,' said Milton. "This is especially important for those who need a replacement card quickly because they are going out of town on vacation."
Some Ideas Fail
Milton emphasizes that not all ideas make it to the big time. Those that don't succeed are sent back to the drawing board for further study.
For instance, the bank recently started testing of a new business credit card, but soon abandoned the test.
"We knew within a matter of weeks that it was not going to work," said Milton, which was a big benefit to use in terms of cost savings.
He said before the pilot program "We might have spent months if not years putting something together that would not have worked."
Milton said Union Bank decided upon San Diego as a site for test marketing because the region here has the bank's highest branch density, which allows for multiple tests at the same time.
He said San Diego has a number of advantages over other regions in California, Washington and Oregon where the Japanese-owned bank has 350 branches.
Lower Advertising Costs
Thanks to the higher density of branches locally, advertising costs are lower here than in other market, so we can utilize the lower costs for testing.
"Our marketing dollars go further here than in other markets, which allows us to communicate much more frequently with our clients," he said. "We can test more ideas much more quickly here than we can in other markets."
"We're not doing this to compete against other banks, we're doing this to make sure we align our products and services with what our customers wants and needs," said Milton. "We look for ideas that don't work as much as we look for ideas that do work," Milton added.
On Amir, professor of marketing in the Rady School of Business at UC San Diego, said testing is nothing new in the business world.
He said what is new is that "traditional organizations" such as banks are starting to adopt the practice, as evidenced by Union Bank's experiences in San Diego.
Importance of Field Testing
"More and more companies are doing field testing, and Union Bank has joined that trend. It's important and useful. For years companies have pretty much ignored this."
Amir said what is unusual is that San Diego is a test market.
Test markets need to be representative of a company's entire market, he explained.
"Union Bank must have concluded that San Diego offers a good average representation of its market on the West Coast," he said.
Bank officials credit the bank's ongoing pilot program testing efforts in San Diego for its rapid growth in issuing Small Business Administration-guaranteed loans. Union Bank now ranks third, an increase from the 19th position held not long ago.
Meanwhile, Union Bank, ranked as California's second largest bank with $133-plus billion in assets, has announced plans to revamp its business profile in San Diego.
The bank recently launched a new integrated marketing campaign anchored by the tagline "Your Details Matter," focusing on the bank's ability to work one-on-one with its customer base.
The campaign runs through the spring of 2020.

The bank has also announced plans to remodel six of its branches locally next year.