SAN First in Nation to Offer Ocean-Friendly Food Option
Tuesday, October 1, 2019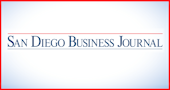 San Diego International Airport is the first airport in the nation to offer an "ocean-friendly" dining option, certified by Surfrider Foundation's Ocean Friendly Restaurant program, according to a press release.
Terminal 2 West's Einstein Bros. Bagels, operated by Mission Yogurt Inc., is the first Ocean Friendly restaurant at the airport and one of many eateries that have pledged to reduce their waste and boost environmental awareness about the rise of "garbage cluttering Earth's waterways," reads the release.
The Einstein Bros. Bagel location joined the international campaign by Surfrider Foundation to promote ecologically responsible business practices and part of the organization's efforts to combat the "over 5.25 trillion pieces of plastic alone polluting oceans and threatening aquatic life," according to the press release. The Einstein Bros. Bagel location plans to provide reusable foodware for onsite dining; proper recycling practices; only paper straws provided upon request; no Styrofoam; and no plastic bags for take-away orders.
"To us, we see this as another step in doing the right thing by both our customers and our planet," said Rob Ziemer, general manager of Mission Yogurt, which operates both Einstein Bros. Bagel restaurants at SAN, via a statement. "When the Airport Authority and Surfrider Foundation approached us with the suggestion, it just flowed naturally to follow on our efforts as one of the first Green Concessionaires at SAN."
There are over 115 restaurants in San Diego County under the Ocean Friendly Restaurants program, and in the hundreds across 26 states, plus Canada, states the release. The San Diego County Regional Airport Authority, which operates SAN, runs other sustainability programs, including SAN Green Concessions program, which "promotes waste reduction and diversion, energy and water savings, and environmentally sound business practices among concessionaires, with green concessions now at 72% participation".
Travel & hospitality reporter Mariel Concepcion can be reached at mconcepcion@sdbj.com or 858-634-4625.