PROPERTY: FROM INSIDE TO OUT, CHANGES MAKE STATEMENT
Law Firm Embraces Branding Opportunity
Tuesday, October 1, 2019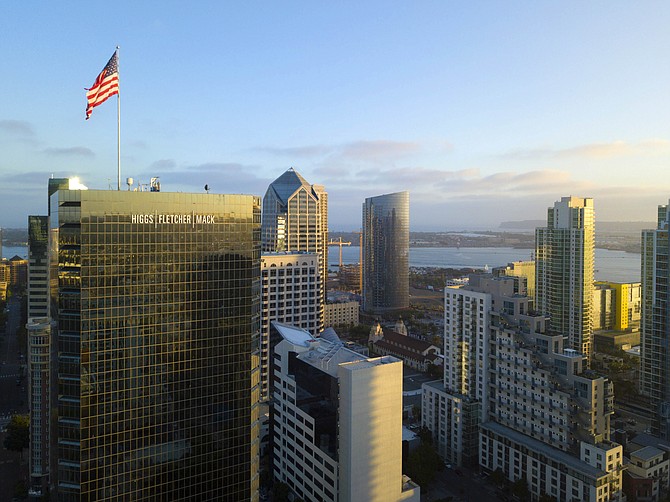 How does a long-established law firm get its name out to the public?
Put it in lights, shout it from the rooftops in a way that's hard to miss.
That's what Higgs Fletcher & Mack LLP did, splashing its name in big tall letters across the top on the north-facing side of the downtown San Diego office tower at 401 W. Ash St.
"Obviously, this is a big branding opportunity for HFM (Higgs Fletcher Mack) and a way to show that we are truly part of the fabric San Diego," said Managing Partner Steve Cologne.
"We are a homegrown San Diego (firm) — we have been here for the last 80 years and have worked with a variety of businesses and individuals in our city, county, state and beyond," Cologne said. "When the opportunity arose, we couldn't pass it up — our name on the building clearly illustrates our place in San Diego and our ongoing commitment to our city."
Putting its name on the north side of the building was part of a thorough overhaul and expansion Higgs Fletcher Mack recently completed.
With nearly 80 lawyers, the firm took over the entire 25th floor of the building. It had been using only part of it in addition to three other floors it leases, "so now our office suite is comprised of three full floors," Cologne said.
"Primarily, we wanted to be able to create more workspaces, open-up our lobby, and adjoin all three of our office suite floors," he said.
Interior Planning Director Nicholas Willis, designed the renovated offices, said that they had undergone multiple remodeling and alterations over the years.
The space "had become visually disconnected and inefficient," Willis said.
He said his goal was "to create a warm, welcoming environment" for those who work at the law firm and visitors.
"We reimagined the space to be a cohesive, timeless design filled with natural light, featuring a mixed palette of materials including wood, stone, and stainless steel, functional and contemporary furniture systems, and modernized building systems and technology," Willis said.
Cologne said the law firm has a mix of seasoned lawyers and others that are new to the practice.
The remodeling "strikes the right balance between traditional and modern," he said
"The practice of law does continue to change. It is very important to us that our attorneys practice in an environment that has evolved as well," Cologne said. "Attorneys spend a lot of time at work. It is important to us that they are comfortable in their workspace and they recognize that the firm is fully equipped to grow."
Versatile Desks
Among other things, he said the new offices have desks that allow lawyers to sit or stand as they work with a mix of small and large meeting rooms and work spaces along with a reception area and space for entertaining and hosting various events.
"HFM has a long history of hosting a variety of events, including the San Diego County Bar's annual spring diversity reception, and we want to continue to be able to welcome our clients and others in the legal community to our space," Cologne said.
Before the renovation, the office space "had the look of a very traditional law firm," Cologne said.
"Our remodel is cleaner, brighter and more open and definitely more modern. In general, it is more in line with our brand and how we want to be perceived now and into the future — the right mix of traditional law firm but with the feel and amenities of a modern office."
There are still bookshelves filled with law books, but far fewer than before as lawyers move away from paper and more toward digital.
Even Redesigned Website
Along with remodeling their offices, Higgs Fletcher Mack redesigned its website to give it a cleaner look.
Some law firms have moved out of downtown in recent years to be closer to clients in UTC, Torrey Pines and Sorrento Valley.
Cologne said Higgs Fletcher Mack stayed downtown because it's always been the firm's base.
"We feel like our firm is part of the fabric of this city, and it is important for us to be near our state and federal courthouses, the bar association and in the core of San Diego's legal community," Cologne said.