MACHINE LEARNING HELPS FIND CLUES ON PROPERTY IMPROVEMENTS
Co.'s Data Analytics Might Find If You've Been Fibbing on Taxes
Tuesday, October 1, 2019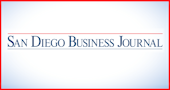 San Diego investor Neil Senturia launched a new startup to help governments detect unpaid property taxes. Senturia co-founded Deckard Technologies last year with Greg Rose, a former senior vice president of engineering for Qualcomm. They launched the company with seven former Qualcomm engineers in July 2018.
The company has raised more than $4 million in funding, with New York-based investment group Loeb Enterprises serving as lead investor in its seed round. Deckard has also brought on Mono County as its first customer.
Deckard Technologies pulls real estate data and uses a combination of machine learning and data analytics to identify real estate improvements made without a plan or permit. For example, permits are required for adding a fireplace to a home, or in some cases, building a deck.
"The effect of not getting a permit is that these properties never get re-assessed at the proper value and the legally owed property taxes never get collected," Senturia said in a news release.
Deckard plans to use the funding to build another product, Rentalscape, which quantifies short-term vacation rentals and determines what fees should be paid to local government.

The company is running a pilot program with Riverside County and is in discussion with other cities and counties across the state.