RETAIL: CUSTOMER LOYALTY AND SMALL CO. IMAGE ARE RESPECTED
Company's History Helps in Competitive Organics Market
Tuesday, October 1, 2019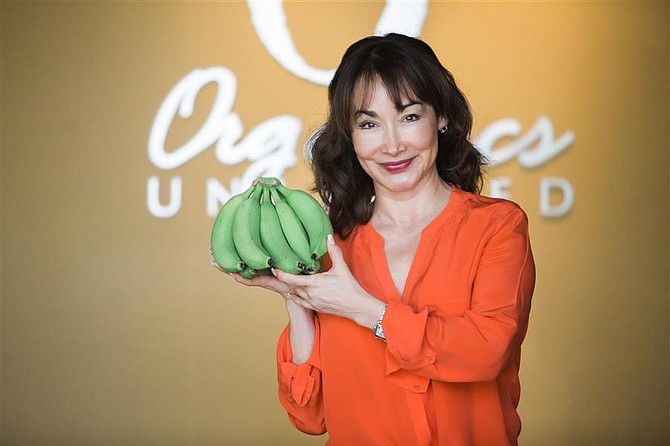 Although the organics bananas category is a bit more crowded these days, with all the big-name banana growers and/or distributors like Dole, Chiquita and Del Monte adding the option to their lineup in recent years, San Diego-based Organics Unlimited Inc. remains a major player in the game.
Founded in 2000 and with nine employees, the privately held Organics Unlimited, a Otay Mesa-based grower and distributor of organic tropical fruits, distributes roughly 1.8 million cases of organic bananas annually in the U.S, Canada and Japan, according to the company. Some of its San Diego-based contracts include Jimbo's and Ocean Beach People's Organic Food Market, among others.
Steady Revenue
While Organics Unlimited has experienced a slight dip in sales lately, according to founder and CEO Mayra Velazquez de Leon, its revenue has been steady, she said; the family-owned company reported a growth of 19% to 21% year-over-year to the San Diego Business Journal in May 2018.
Despite a saturated market, part of the reason Organics Unlimited is still a profitable and growing business, according to Velazquez de Leon, is because of the company's personal and professional history with the industry.
Velazquez de Leon's father began his bananas distribution company in 1974, where she worked for 13 years until his retirement in 1999. Almost a year later, although Velazquez de Leon initially had no intention of continuing in the organic bananas distribution business, she and her then-husband, Manuel Velazquez, launched Organics Unlimited.
"We took out a second loan on our house," she said about how the duo got their start. "It was the end of 1999, but our first shipment arrived in the country (from Mexico) in 2000. It wasn't (an) inherited (company) — we started it all from scratch."
Another reason Organics Unlimited has had an almost two-decade-long growth trajectory, she said, is that the company planted roots in the organic bananas sector way before some of the others jumped on the bandwagon.
Pioneers in the Business
"We were the pioneers," said Velazquez de Leon. "We knew what we were doing. We've even packed organic bananas for Chiquita. That should tell you how reliable and knowledgeable we are in the organic bananas industry. They looked to us to be their supplier. That speaks volumes of who we are."
Velazquez de Leon said, within a few months of launching the company, and due to the high demand for organic bananas back then, she accepted a single-source investment for an undisclosed amount. She said, at that time, the company was growing 600% a year, adding that, although they were just distributors and not growers then, she was familiar with the industry and was advised by her father as well, who was a member of the Organics Unlimited board.
A Growing Role
To stay competitive, Velazquez de Leon said she and her team began implementing some changes company-wide to improve overall quality. For example, the bananas went from being transported and delivered in wooden crates to cardboard boxes, she said. And, in 2004, Organics Unlimited went from being just a distribution company to being growers, purchasing almost 2,500 acres of farmland in Mexico and Ecuador. The bananas are not only organically grown there, they are packaged and labeled and then shipped by truck to the Otay Mesa warehouse, where distribution takes place.
"We wanted to be fully integrated," said Velazquez de Leon about the latter decision. "We also contract with growers. So, for us to be able to negotiate, we needed to know how things were done."
Organic Becoming the New Normal
Paula Peter, marketing professor at San Diego State University, said Velazquez de Leon is smart to continue to grow her organic business, despite competitors, because the organic sector isn't showing any signs of slowing down any time soon.
"The organic industry is not going away any time soon," she said. "In fact, it is leaning more and more in the direction of everything, at some point hopefully, becoming organic. So, we won't even need to differentiate (non-organic from organic) anymore."
She said the fact that big brand names, like Chiquita and Del Monte and Dole, are all offering organic produce now is a clear indicator that even the bigger food suppliers need to consider participating in the growing trend.
"This trend is not showing any signs of declining," she said. "It's actually doing the opposite. Plus, consumers are much more educated these days… which mean you have an increase in demand, and, hopefully, a decrease in prices."
In 2005, Organics Unlimited launched its own version of a Fair Trade label called "GROW", which is administered by the International Community Foundation, an international charity organization providing philanthropy to benefit under-served communities in Baja California, said Velazquez de Leon. She said 80% of Organics Unlimited's business is with the GROW label, which helps with the company's philanthropic efforts, including helping more than 80 kids with sponsorships and cleaning the river between the United States and Mexico alongside the Environmental Health Coalition, among other work.
"When we sell a GROW label, $0.60 of that box's sales go directly to the GROW fund," said Velazquez de Leon.
Today, Organics Unlimited is a fully sustainable company, according to Velazquez de Leon. She said the company is socially responsible and has the lowest carbon footprint because its organic bananas come from right across the border. She also said, although it plans to stay 99.9% in the organic bananas realm, as its always done (the remainder is in organic coconuts and organic plantains), Organics Unlimited might consider diversifying into other organic products in the future, as long as it feels authentic to the brand.