AIS Technology Services Acquires Local IT Firm
Tuesday, October 1, 2019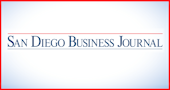 San Diego-based AIS Technology Services acquired local IT firm Fortitude Technology. The two companies had worked together for 15 years before closing the deal at the end of the third quarter.
AIS Technology Services offers data center colocation and network services. The company, which had 61 local employees as of 2019, has grown to add new technologies and facilities to its business.
Fortitude, which is also based in San Diego, offers hosting, backup, disaster recovery and virtual desktops. The merger will also allow Fortitude to offer a broader array of services to its customers.
"We are proud to welcome Fortitude into the AIS family," AIS CEO Matt Thoene said in a news release. "Our shared cultural values and customer-centric approach make merging the two organizations a natural fit."
The companies did not disclose the terms of the deal.