STAFFING PROBLEMS ARE A BIG ISSUE; CENTER TO OPEN NEXT YEAR
Training Center to Be Foundation for New Construction Workers
Thursday, November 28, 2019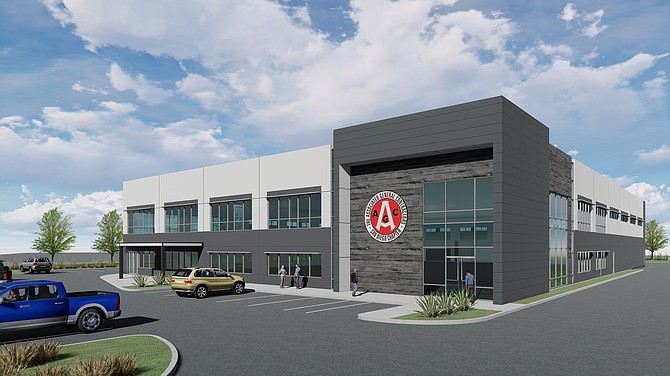 Construction workers who want to improve their skills or learn a new aspect of the business will soon have a new place to train.
Associated General Contractors of America's San Diego Chapter is building a new 43,600 square-foot open-shop apprentice training center in Lakeside.
The AGC has a training center in Sorrento Mesa but needed more room for a second center, said Brad Barnum, executive vice president.
"The bottom line for the industry is the industry is growing and the need for a state-of-the-art facility is very important to making sure these projects are built safely, on time and under budget," Barnum said. "We have a lot of safety training and continuing education for our contractors."
The AGC San Diego chapter has more than 1,100 members
The group chose Lakeside in part because many of its member contractors are headquartered in East County and many of the workers they hire live there, Barnum said.
"It might be a little easier for them to get out there," Barnum said.
Summer Opening
Scheduled to open next summer, the Lakeside training center was designed by Ware Malcomb architects and Barnhart-Reese Construction is the general contractor.
Construction of the new center comes at a time when developers and builders complain that they have trouble finding skilled workers.
"That's an ongoing issue that we're trying to find workers to come to the industry," Barnum said. "That's why we're trying to get folks interested at the high school level and college."
34,400 Jobs Added in State
California added more construction jobs between October 2018 and October 2019 — 34,400 — than every other state with the exception of Texas, according to the national AGC. Texas added 51,400 jobs over the same period.
In all, 41 states and the District of Columbia added construction jobs over the past year, according to the AGC.
California added 2,100 jobs between September and October 2019, the AGC reported.
"Construction employment continues to experience robust growth in most parts of the country," said Ken Simonson, the association's chief economist.
"Many firms appear to be overcoming the challenge of low unemployment rates and strong demand for labor by increasing compensation levels and investing more in training people with relatively little experience in construction," Simonson said.
An August survey by the AGC found that many construction companies reported raising pay and benefits to attract workers.
"Construction firms are taking the lead to recruit people into the construction industry who may not have originally pursued this career choice," said Stephen Sandherr, CEO of Associated General Contractors of America nationally.
The Lakeside center will offer federally approved training for carpenters, cement masons, drywall finishers, drywall latherers, heavy equipment operators, painters and laborers.
"It's really important to have an apprenticeship program that affords us the opportunity to educate these kids coming out of school that a construction path is an outstanding career path," said Tom Brown, AGC Training Trust chairman who leads the association's apprenticeship program.
Potential Pay
With the right training, construction workers can make "close to six-digit figures," Brown said.
The training programs to be offered in Lakeside will give workers hands-on training.
Workers will actually build something using the skills they're learning as part of the training, Brown said.
At more than three acres, the Lakeside site also has room to operate heavy equipment as part of the training, Brown said.
He said the center also will have simulators for heavy equipment training, similar to the airplane simulators used to train airline pilots.
Barnum said about 800 people go through the apprenticeship program every year.
The program is for people who are working for a construction company but want to improve their skills and move up.
"You train at night and you work during the day," Barnum said.