SDBJ INSIDER: Ask Illumina, Not the Waiter
Thursday, November 28, 2019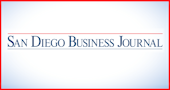 What's for dinner? Maybe Illumina can help.
New York City-based Gene Food Inc., a nutrigenetics startup has launched a proprietary algorithm that divides people into one of twenty diet types based on genetics data.
According to the company, "Gene Food's genetic test kits are processed in a fully secure, CLIA certified lab in the biotech hub of San Diego."
Who might that be?
"Gene Food's lab uses the chip and Global Screening Array (GSA) manufactured by Illumina to provide microarray analysis service," the company said.
Gene Food scoring system puts customers into a diet suited to their needs.
"Those carrying a genetic polymorphism linked to poor saturated fat metabolism, ApoE4, will often score into one of the lower fat, plant based diets in the Gene Food matrix," the company said. "By contrast, those carrying robust PCSK9 or LDLR variants are more likely to do well on a higher fat diet."
...
San Diego-based Environmental Lights, a provider of LED lighting solutions, announced the launch of the new Continuous LED Strip Light.
"Continuous LED Strip Light is a new style of strip light that utilizes chip on board LEDs to create one diffused line of light," Environmental Lights said in a news release. "It is ideal for use around reflective surfaces, such as marble floors and countertops, because it eliminates the dots seen with standard SMD LED strip light. It also enables designers to use diffused light in tight spaces where standard channel systems wouldn't be ideal."
Director of Product Engineering Alicia Cheng added, "Continuous LED Strip Light marks the next big advancement in LED lighting and we are excited to use this technology to help our customers push their lighting designs to the limit."
The company said it works with a variety of businesses including retail display, entertainment, trade show/exhibit, hospitality and casino gaming. Environmental Lights was founded in 2006 in San Diego. Jamison Day is CEO; Jordan Brooks is president.