Rady Children's to Receive $200M Donation
Monday, November 25, 2019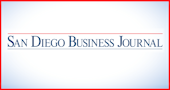 Rady Children's Hospital in San Diego recently announced the single largest donation in its history.
The hospital's namesake, Ernest and Evelyn Rady, pledged a $200 million gift to help redevelop and expand its campus and facilities.
"Ernest and Evelyn have inspired us to completely reimagine the healing environment for children and families," said in a statement Patrick Frias, Rady Children's president & CEO.
Frias said beyond expansion, the funds would integrate the hospital's latest technology and clinical care.
The $200 million will go to the Rady Reimagine Fund. Hospital officials began gearing up for a revamp last year following the passage of a state bond to support children's hospitals.
With the $200 million set up as a matching fund to entice other philanthropists, the total fundraise could exceed $400 million.
The Radys have a history of giving to the hospital. In 2014, they contributed $120 million to support the Rady Children's Hospital's Institute for Genomic Medicine. The institute is at the forefront of diagnosing critically ill children with complex cases.
The hospital was renamed after them in 2006 after their gift of $60 million to support the construction of the hospital's acute care pavilion.
"Evelyn and I have gotten a great deal of pride and satisfaction from the wonderful care that the people at Rady Children's Hospital have provided to the children of our community," said Ernest Rady in a statement.
Rady Children's first inpatient building sprung up in the 1950s. Today, the hospital system says it's one of the largest free-standing children's hospitals in the country with 524 inpatient beds.