Getting a Seat at the Table: How Women Can Position Themselves to Get on Boards
Monday, November 25, 2019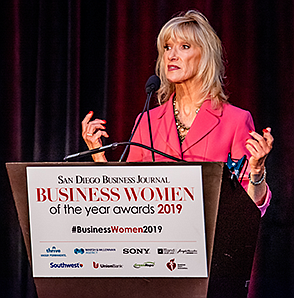 The 26th annual Business Women of the Year Awards brought several speakers together to discuss membership on boards, including the boards of public and private companies.
A panel of local business leaders spent a good amount of time talking about the need to increase the number of women on boards. California's Senate Bill 826 requires corporations in the state to have a certain amount of women on their boards, panel moderator Holly Smithson noted while kicking off the discussion.
Following the panel, the talk turned to the more general subject of getting a board seat. North County resident Carrie Stone offered the audience of more than 400 people some detailed advice in her keynote speech, "Building Your Value and Personal Brand for Boards."
Stone is president of cStone & Associates, an international executive search firm offering comprehensive executive and board advisory and recruiting services.
Stone, a North County resident, made it clear that the process of getting a board seat is neither quick nor easy. For aspirants early in their careers, achieving the goal will require effort and a significant amount of preparation — yet the goal is within reach. Continuous learning and networking are both essential.
Financial acuity is a must, she said. Board members must be able to read financial statements, understand them and ask the right questions.
Inventory and Superpowers
As a first step, Stone advised her listeners to look within, to know their motivations for serving on a board. Understanding their own motivations may give prospective board members a sense of what type of board they might serve on: nonprofit, public or private.
Stone encouraged her listeners to take inventory of their professional skills and experience; to understand what boards are looking for; to
determine what value they might bring to a board and where they may need to develop and cultivate skills and experience to meet desired board criteria.
Stone told her listeners to identify their Board Superpowers. These include unique skills, experience, value-add and personal attributes.
Personal attributes are assessed of board candidates to evaluate whether the candi-date will be a good cultural fit for a board, Stone told her audience. A member must have the proper emotional intelligence and a sense of collegiality, as well as courage to go against "group think." Prospective board members must have "an insatiable thirst for knowledge."
A Four-Point Plan
The speaker offered potential board members in the audience a four-point plan for building their board value.
Training and education is the first action item.
Gaining experience is a second thing to do. Serving on a large not-for-profit board with governance and on committees is a good place to start, she said.
Thirdly, Stone said potential board members need mentors. They need to identify a mentor serving on one board or multiple boards of interest. A good mentor will inspire a person to operate at their highest potential, she added.
The more technical aspects of board membership also deserve study. Stone advised listeners to develop committee expertise. Boards typically have audit, compensation, nominating and governance committees. A person can become familiar with this subject by reviewing public company charters. National Association of Corporate Directors programs are helpful. Prospective board members can also learn from certified public accountants and compensation consultants.
"Read, read and read," Stone told her audience.
Spreading the Word
As many board seats are acquired through a relationship or referral, Stone advised attendees to develop a strategy for their board pursuits and communicate it broadly.
Stone also advised that the most critical marketing tool a board aspirant needs is a "board bio" that speaks to skills and experience relevant to board governance. Boards are seeking stewards of the business, not managers. She shared that recruiters and board members may look them up on LinkedIn and that they should optimize their profiles to emphasize board-ready skills and experience.
The concept of "The Humblebrag" was introduced as a powerful way for women to pitch themselves in a story-like manner with pride and passion.
Be intentional about your search, Stone advised, and network like a champion.