DINING: MISSION VALLEY SPOT PLANS INVENTIVE DINING, DRINKS
Artisan Ambitions Guide Puesto
Monday, November 25, 2019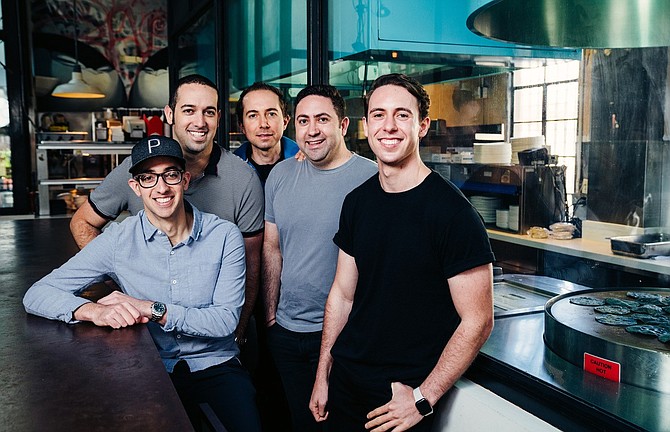 Puesto Mexican Artisan Kitchen & Bar, headquartered in La Jolla and with around 380 local employees, continues to up the ante as far as its local food and beverage offerings are concerned.
Just next month, Puesto, with two locations in San Diego and six altogether throughout California, will open its third restaurant in the county and first ever brewery, Puesto Mission Valley and Puesto Cerveceria, located in Mission Valley. The $8 million dollar, 450-seat eatery spans more than 10,000 square feet of indoor and outdoor patio space. To make sure the concept meets the highest of standards, brothers and founders Alan Adler, Alex Adler and Eric Adler hired Beau du Bois, formerly from three Michelin-starred The Restaurant at Meadowood in St. Helena, Calif. Founded in 2012, the family -run-and-funded Puesto made $25.4 million in revenue in 2018 and is projected to make over $40 million in revenue in 2019, according to the company.
Largest Project to Date
"While we've been busy growing our team throughout California, we've been most focused on our largest project to date: Puesto Mission Valley and Puesto Cerveceria," said Alex Adler. "We're almost finished with it. It's our third San Diego location and we knew we wanted to open this project in our hometown. Not only are we opening a new restaurant this time around, we're opening a namesake brewery so there has been a lot to learn."
To help guide the team through the process is du Bois, now Puesto's bar & spirits creative director, who will work alongside Puesto Cerveceria head brewer, Doug Hasker. The latter stayed on and kept the same role he had at Gordon Biersch, a brewery formerly housed in the same location for several years before closing over the summer.
Cocktail Fans
"After meeting the Adler brothers and visiting a couple of the San Diego locations, I recognized a very unique opportunity to join an operation with a strong cocktail interest from its customers," said du Bois, who met the Adlers through industry friends. "This isn't a project where I need to create an interest in cocktails: the interest and demand is already there. That's when the fun and creative work begins. So, I look forward to elevating the cocktail program and the creativity within it."
Adler said, since joining the team, Hasker has been hard at work developing the first Puesto Cerveceria lineup, which will be composed of Mexican lagers, including a Puesto Mexican Lager and a Puesto Mexican Negra Lager, and will debut when the restaurant opens next month. "I'm hoping to bring something to the table that's as highly accepted as Puesto's world class tacos," said Hasker, adding that a Mexican Lager is essentially a style of beer that originated in Mexico from German and Austrian brewers in the mid-1800s. "Puesto Cerveceria's beers will be high quality, traditional Mexican style lagers that pair well with the restaurant's signature dishes."
The beers will only be available at Mission Valley to start, but will eventually be sold at all Puesto locations, including the two restaurants in the Bar Area and two in Orange County, Adler said. Ultimately, the plan is to expand distribution in the future, he added.
"At this point, we feel that we have created the perfect team to grow our beverage program and are ready to share Mexican lagers done correctly with San Diego," said Adler. "Essentially, we're ready to stand behind our beverage program on the same level as our tacos when we started almost eight years ago."
Responsible for the cocktail program throughout all Puesto locations, du Bois will also join the likes of Puesto's recently-hired Executive Creative Chef Marco Arreguin, who came from the Michelin-starred Taco Maria restaurant in Orange County.
Adler said it was important for him to continue to build a talented executive team with awards and honors to show for their work and innovations.
Star Qualities
"We felt it was important to bring someone on who could match (Arreguin's) talent on the beverage side," he said. "Michelin stars are the top accolade in our industry, so having not one but two team members come from Michelin starred establishments is intentional."
The Puesto Cerveceria seemed like a natural direction for Puesto to venture in, according to Adler, who said the company as a whole has always focused on all aspects of the Puesto experience, including the bar and its libation creations. In fact, one of the things that du Bois will place heavy focus on is the restaurant chain's ice program. Adler explains a good ice program in a modern cocktail bar simply refers to it offering a variety of ice types that are specifically selected for the integrity of each cocktail. For example, an Old Fashioned should be over one large ice cube, he said, and a Mai Thai should be served with pellet ice.
Keeping It Cool
"Making sure you can source/maintain those varieties in a viable way makes it a program," he said. "Beau (du Bois) will be using proper ice in our signature cocktails, which will lend to both the taste and presentation."
This is just the latest way in which Puesto has managed to stay ahead of the hospitality curve. What makes the restaurant chain a favorite among locals and visitors is not only the innovative flavor combinations of Mexico City-inspired tacos, but also the visually-appealing atmosphere that the Adlers have meticulously created at each destination. This is in large part thanks to the direction of Puesto's handpicked design partners, including Paul Basile of BASILE Studio, who will reimagine the indoor and outdoor areas of the Mission Valley Puesto location. Commissioned works of street artists like Bay Area's Chor Boogie, who has created graffiti murals for Puesto restaurants, is also a detail that has become synonymous with the brand.
Tough Choices
On the menu side, favorites include the filet mignon taco with crispy melted cheese, avocado and spicy pistachio serrano; the chicken al pastor taco with crispy melted cheese, hibiscus and chipotle tinga, avocado and pina habanera pico; and guacamole nogada, an eclectic take on the classic guacamole with pomegranate arils, mango, chile de arbol and candied walnuts. Puesto uses sustainable meats, non-GMO, organic ingredients and local produce, according to the company, and it makes its foods fresh daily, including its handmade mazi azul stone-ground tortillas and its salsas.