BIOTECH: FOUNDER TO REMAIN AS CHAIR
Toft Group Acquired By New Jersey Co.
Sunday, November 24, 2019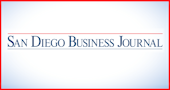 Thirteen years ago, Robin Toft landed in the emergency room with a colon cancer diagnosis. She took a hard look at her life.

Tired of being stressed out, Toft resigned from an executive role at pharmaceutical Roche. She then relocated to San Diego for treatment — and plotted her next move: founding a different kind of executive search firm.
"I decided I was going to fix everything that was wrong with the executive search industry," said Toft, who has been cancer free since an operation in 2006.
Supporting Women
Part of what needed fixing, she said, was women being underrepresented at the top of biotech. This germinated into Toft Group, which was recently acquired by ZRG Group for undisclosed terms.
Toft's company head-hunts candidates — emphasizing women and millennials — for companies at the intersection of biotech and tech.
Toft said she decided to sell because New Jersey-based ZRG Group has an international footprint and advanced data analytics to find candidates. Taken together, this will expand the reach of Toft Group, which has offices in San Diego, San Francisco and Boston.
"It's a perfect strategic fit," she said.
Toft will continue as chair of the Toft Group, which will keep its name for the time being. The role entails co-leading ZRG's life sciences division, including an initiative promoting women on boards.

"I now have a larger stage, worldwide and across verticals," Toft said.
She founded Toft Group in 2010. The company was early to the cause of placing more females in leadership roles — now in vogue, in part because of a talent shortage in life sciences.
Toft said candidates with their pick of jobs increasingly look for companies with a commitment to diversity — in terms of gender, race and age.
Board Mandates
Plus, a new California law mandates that public companies have at least one woman on their board by year's end. By 2021, a public company with five directors must have at least two female board members, and boards with six or more directors must include at least three women.
The legislation recently drew a legal challenge, which was widely expected when it passed last year. But Toft said companies aren't waiting to find female board members.
Toft Group has 16 employees — about one-twelfth of ZRG's count.
Objective Capital Partners advised Toft Group on the deal, terms of which weren't disclosed. But ZRG expects the acquisition will add $10 million in annual revenue to its coffers.
Toft said she started the company with two principles: female and fast searches.
"Ten years later those things really make a difference," she said.